Canadian National Railway (CN) has outbid its rival Canadian Pacific to combine services and networks with Kansas City Southern Railway (KCS) in North America.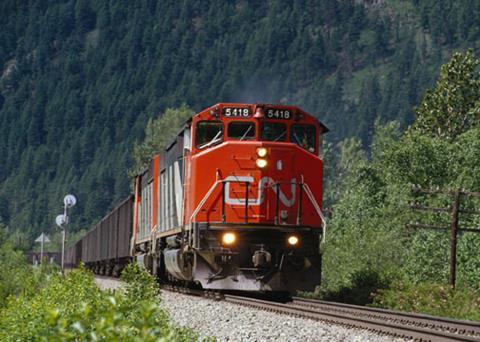 The combined single-owner operated Class 1 network will provide access through Canada, the US and Mexico and be one of the largest intermodal networks in North America, covering 27,000 miles (42,500km).
Contrary to earlier reports that Canadian Pacific had sealed a deal worth $29 billion, KCS paid $700m to terminate the former agreement and signed a new one worth $33.6 billion with CN, which includes the assumption by CN of around 3.8 billion of KCS debt.
As with the rival deal, the new one is subject to regulatory approval. The completion of the transaction is expected to take place in the second half of 2022 after which the integration of the two companies will begin.
"KCS is the ideal partner for CN to connect the continent, helping to drive North American trade and economic prosperity," said Robert Pace, chair of the board at CN. "We are confident in our ability to gain the necessary regulatory approvals and complete the combination with KCS, and we look forward to combining with KCS to create new opportunities, more choice and a stronger company."
Patrick Ottensmeyer, president and CEO of KCS, added: "Our companies' cultures are strongly aligned, and we share a commitment to environmental stewardship, safe operations, reliable service and outstanding performance."
He went on to say that the larger continental enterprise would create new growth opportunities for customers, employees and labour partners, amongst others.
In terms of resources for automotive, CN moves more than 2.4m finished vehicles annually and has 18 automotive compound facilities. The rail operator serves 13 North American vehicle assembly plants. Its network enables it to distribute cars and automotive parts across Canada and the US Midwest, as well as reaching intermodal links. It also has its own fleet of 5,700 railcars.
KCS currently serves 16 vehicle assembly plants in Mexico and has four of its own automotive distribution facilities. The railway provides transport to and from three of the major Mexican ports on the Pacific and Gulf coasts.
The rail companies agreed that the combined enterprise would benefit from the USMCA trade deal that came into force across North America last year.
Read more about developments in the North American rail network in our forthcoming summer digital edition of Automotive Logistics and Finished Vehicle Logistics magazine