Last month, Volvo announced the launch of its first fully electric vehicle, the XC40 Recharge. As a mark of its commitment to a greener future, the company also pledged to manufacture a fully electric edition of each of its existing models every year, meaning that by 2025, half of Volvo's annual production will be electric-only vehicles. In the context of service and maintenance, what do commitments of this kind mean for dealerships?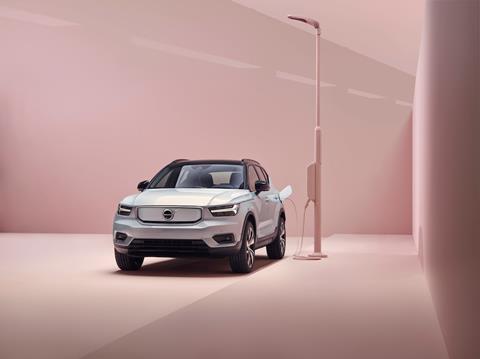 Throughout the twentieth century, the electric vehicle (EV) market was in a constant state of flux. Following a premature heyday around 1910, EV momentum was all but wiped out by the proliferation of gasoline-powered cars in the factories of Henry Ford, and compounded by the discovery of cheap oil in the 1920s. Resurgent interest in EVs was dampened throughout the rest of the century, predominantly because of limitations in battery technology.
Now in 2019, these pledges from Volvo and others show how advances in technology and a growing social conscience to live more sustainably has overseen the explosion of the EV market. You would be brave to predict it dying out again, with the global number of EVs expected to reach 125m by 2030.
Juggling parts
This pursuit of the EV revolution is great for the planet but problematic for many dealerships. The changing make-up of vehicle types on the road – from internal combustion engines (ICEs) to hybrids, to fully electric – presents a juggling challenge for those tasked with the maintenance of these vehicles. Where before dealerships could rely on the traditional break-fix service model of ICE maintenance and repairs, they must now reconcile the unique technical complexities of a variety of engines all at the same time.
According to Steve Nash, CEO of the Institute of the Motor Industry (IMI), there are approximately 31m ICE vehicles on the road in the UK today. With many durable goods lasting for roughly 25 years, dealerships will be required to deliver break-fix on these vehicles for the foreseeable future, despite Nash's estimation that the UK will be selling more EVs than ICEs by 2025. Over the coming decades, our roads will continue to be a pick-n-mix assortment of vehicle types.
For the consumer, the simplicity of the EV engine is one of its major selling points: the money saved on servicing for oil changes, spark plugs, air filters, and belt and coolant changes amounts to a significant sum. But the consumer's gain is the dealership's loss, and they must work to accommodate all engine types or risk losing business.
So, how can they do this?
Shift to servitisation
The foundation of the global manufacturing economy is at an inflection point. The idea of product ownership is becoming less important for the modern consumer and in its place a movement towards products-as-a-service (PaaS) is gaining momentum. This shift, where customers pay for access to a product as opposed to ownership, is known as servitisation. We are familiar with this consumer trend in the consumption of digital services such as Netflix and Spotify, and the manufacturing industry is now starting to follow suit.
Accommodating a variety of vehicle types on this growing scale is a new issue for dealerships and making gains in servitisation models is a good way of preparing for the future. In this subscription-based economy, where consumers expect immediate access to a service on request, product uptime will be paramount. In order to achieve this, dealerships must invest in sensor-based Internet of Things (IoT) technology that anticipates equipment failure before it even occurs. The EVs today and of the future are equipped with connected technology, and dealerships must match and utilise this progress if they are to excel in a rapidly changing market.
Evolving revenue models
While preparing for a servitisation-centred future, dealerships must continue to deliver service for break-fix scenarios. Responding to both these models will require the most accurate and reliable inventory systems. Growth in the EV market means dealerships must expand their service parts inventory network – aligning them less with manufacturers of traditional ICE parts, and more with those that supply service parts for EVs.
Sophisticated, cloud-based service parts inventory management solutions easily integrate into existing ERP systems, allowing dealerships to track service parts, eliminate excess and obsolete stock and improve the forecasting of new parts across their entire network. In the PaaS market, these solutions will be critical for meeting customer expectations, and will provide dealerships with a clear picture of their vehicle maintenance operations across the full spectrum of vehicle types.
This type of aftersales service has long been an under exploited revenue stream. More than anywhere else in the customer journey, it is where manufacturers have the opportunity to convert a one-time buyer into a loyal, long-term customer. Exceptional, profitable service means having the correct parts in the right place at the right time.
Introducing training measures
MG recently introduced new EV practices to help them adjust to the changing market. It announced the provision of high-voltage vehicle qualifications for staff in its dealerships, equipping them with the knowledge required for maintaining EV models.
Additionally, MG also made plans to implement two different on-site electrical charging points in all of its dealerships. Not only will this nourish the curiosities of customers looking into the EV market, but it also reassures these customers that MG garages will still be able to accommodate their service requirements were they to shift to an EV.
The IMI estimates that only 4% of qualified technicians currently hold qualifications to work on high-voltage vehicles. Although EVs make up just 1.1% of vehicles registered in the UK, this skills shortage could quickly catch many dealerships on their heels. The landscape is changing, and the industry must develop the right skillsets to support this change.
A balancing act
Making the shift from traditional break-fix, where dealerships have such deep muscle memory, to an all-encompassing model of service will be a defining challenge for the manufacturing industry. Dealerships that can optimise their services while simultaneously developing their business offering will thrive in this new dawn of vehicle maintenance. It will require a difficult balancing act of the old and new, between ICEs and EVs, break-fix and servitisation.
The collective EV thrust from manufacturers like Tesla, Renault and now Volvo shows that the twenty-first century will change the manufacturing picture for good. EVs are here to stay, and dealerships must act now to maintain their relevance and appeal to customers of the future.
Gary Brooks is chief marketing officer at Syncron