UK startup unicorn Arrival is setting out not only to build uniquely designed electric commercial vehicles, but to develop a supply chain made up of 'microfactories' in many regions that use localised suppliers and serve local customers. The company is already in the process of setting up several microfactories, and has investments and collaboration with major companies including Hyundai-Kia and UPS.
Tracey Yi joins Automotive Logistics and Supply Chain Live for a fireside chat on the new Elements division that she is heading, which will be responsible for the supply chain as well as commercialising the sustainable materials and components that Arrival will develop and produce.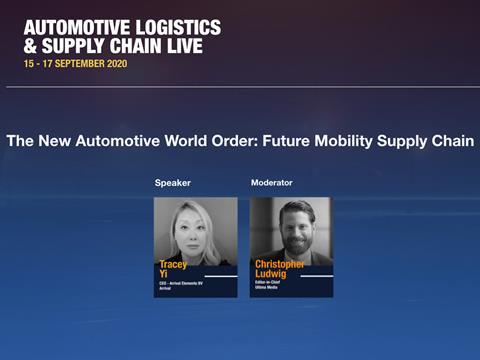 Featuring:
Tracey Yi, CEO of Arrival-Elements, Arrival
Moderated by Christopher Ludwig, editor-in-chief, Automotive Logistics and Ultima Media
This session was held on September 16th during the Automotive Logistics and Supply Chain Live virtual conference. Click here to view all videos from the conference on demand.