As the digital toolbox for automotive logistics expands across data visualisation, real-time tracking, enhanced connectivity and even artificial intelligence, watch how key supply chain leaders are getting to grips with the most important elements of creating and implementing a proactive digital strategy for the supply chain. With insights across start-up electric vehicle OEMs and the agricultural sector, this panel at Automotive Logistics and Supply Chain Live explores the potential benefits and opportunities the transformation can create with real life case studies, examples and insights from our expert panel.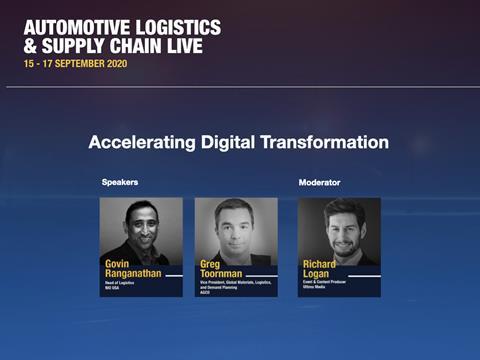 Featuring:
Govin Ranganathan, head of logistics, Nio USA
Greg Toornman, vice-president, global materials, logistics, and demand planning, Agco Corporation
Moderated by Richard Logan, event and content producer, Automotive Logistics and Ultima Media
This session was held on September 15th during the Automotive Logistics and Supply Chain Live virtual conference. Click here to view all videos from the conference on demand.