Sourcing and production of lithium-ion batteries is becoming one of the most important developments in the electrification of the automotive supply chain. Already, manufacturers who struggle with battery cell and component supply can risk losing market share. Manufacturers are also increasingly seeing battery and cell production as a key part of the value chain to develop and manage.
In this presentation, Daniel Harrison provides valuable insights in to the demand patterns and forecasts focused on battery and electric vehicle supply chains.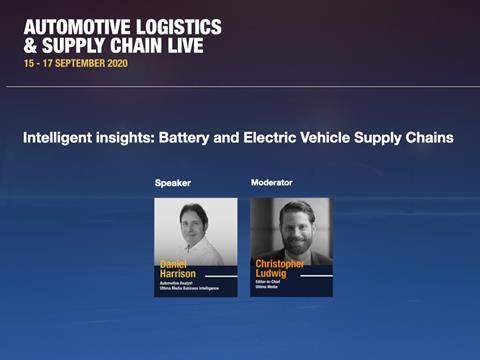 Featuring:
Daniel Harrison, automotive analyst, Automotive from Ultima Media
Moderated by Christopher Ludwig, editor-in-chief, Automotive Logistics and Ultima Media
This session was held on September 15th during the Automotive Logistics and Supply Chain Live virtual conference. Click here to view all videos from the conference on demand.