With the automotive supply chain experiencing tremendous disruption in the wake of the crisis, 'resiliency' has become a key watchword across the sector. For some, that has led to new considerations in sourcing and location of suppliers and manufacturing, and more specific strategies to buffer production and distribution. But do technology and visibility offer a clearer path to sustainability?
Watch this lively discussion across global logistics experts and technology specialists.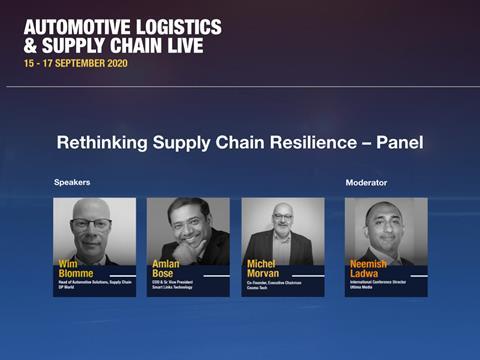 Featuring:
Michel Morvan, co-found and executive chairman, Cosmo Tech
Wim Blomme, head of automotive solutions, supply chain, DP World
Amlan Bose, COO and senior vice-president, Smart Links Technology
Moderated by Neemish Ladwa, conference and broadcast director, Automotive Logistics and Ultima Media
This session was held on September 16th during the Automotive Logistics and Supply Chain Live virtual conference. Click here to view all videos from the conference on demand.