Watch this panel discussion on how North American carmakers, including Volkswagen and Nissan, are redesigning vehicle logistics networks to handle the pandemic and prepare for the future. Software company Inform shares insight on network optimisation and the largest vehicle logistics carrier, Jack Cooper, reflects on improving service and retaining drivers.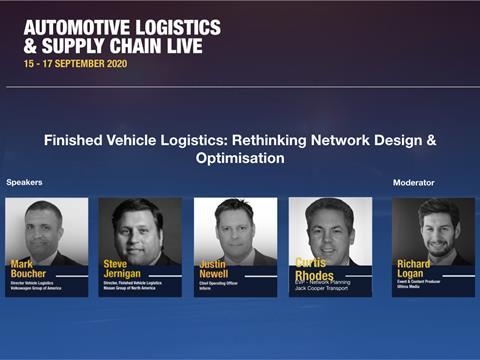 Featuring:
Mark Boucher, director vehicle logistics, Volkswagen Group of America
Steve Jernigan, director of finished vehicle logistics, Nissan North America
Justin Newell, chief operating officer, INFORM
Curtis Rhodes, EVP of network planning, Jack Cooper Transport
Moderated by Richard Logan, event and content producer, Automotive Logistics and Ultima Media
This panel discussion was held on September 17th during the Automotive Logistics and Supply Chain Live virtual conference. Click here to view all videos from the conference on demand.