GM has extended the closure of its Orion assembly plant in Michigan, US, until October 18 because of a battery supply problem.
The plant makes the Chevrolet Bolt EV, but GM has stopped the assembly line following a spate of fires caused by a defect in the lithium batteries powering the car.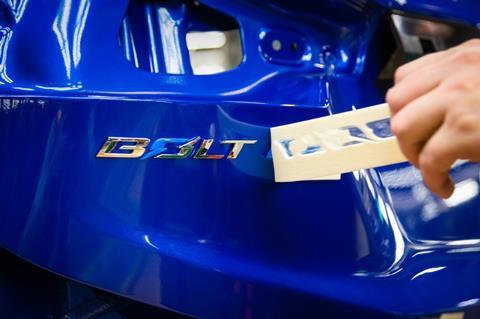 The plant has been closed since August 23 but was due to open next Monday (September 27). However, it will take longer for GM to work with its battery supplier LG Chem to solve the problem. So far, the defect has led to 12 vehicle fires, and there is currently a global recall on all 141,000 Bolt vehicles sold since production began in 2016.
The carmaker said in a statement it was extending the shutdown by three weeks to continue to work with LG Chem to update manufacturing processes and continue to evaluate additional production schedule adjustments.
GM is planning to soon add a second Chevrolet EV model to the production line at the Orion plant, described as an advanced version of the same vehicle architecture and currently referred to as the EUV.
The carmaker had initially planned to make the EUV abroad. Still, it said basing production in the US supported the rules of origin provisions in the US-Mexico-Canada trade agreement (USMCA) that replaced Nafta in 2020. GM has invested $300m in the Orion plant to make the new EV.
Under the new USMCA rules, the regional value content (RVC) for passenger vehicles and light trucks is increasing from 62.5% to 75% over a three-year period. That means the content of the vehicles will require more parts and materials to originate from within North America to qualify for preferential treatment.
Semiconductor latest
Elsewhere GM has announced production adjustments related to the ongoing shortage in the supply of semiconductors caused by Covid shutdowns in overseas supplier plants (see table).
In a statement, GM said that it remained confident in its team's ability to minimise the impact on its highest-demand and capacity-constrained vehicles.
"Although the situation remains complex and very fluid, GM continues to prioritize full-size truck production which remains in high demand," said the company.
This week GM's CEO Mary Barra indicated that the carmaker would make "some pretty substantial shifts in [its] supply chain" to address the continuing semiconductor shortage, as reported by Reuters. No further details on those shifts have been announced.
Production adjustments at GM in North America
Plant

Planned restart

Products

CAMI (Canada)

Oct. 18

Chevrolet Equinox

Fairfax (US)

Sep. 20 (XTC line)

Nov. 1 (Malibu line)

Cadillac XTC, Chevrolet Malibu

Lansing Delta (US)

Oct. 4

Chevrolet Traverse, Buick Enclave

Lansing Grand River (US)

Oct. 4

Chevrolet Camaro, Cadillac Black Wing, CT4, CT5

Orion (US)

Oct. 18

Chevrolet Bolt EV, Chevrolet Cruise, Chevrolet Sonic (autonomous test vehicles)

Ramos (Mexico)

Oct. 4 (Blazer)

Oct. 11 (Equinox)

Chevrolet Blazer, Chevrolet Equinox

San Luis Potesti (Mexico)

Oct. 18

Chevrolet Equinox, GMC Terrain