Ford has announced that it will be working with Redwood Materials to localise the production and recycling of lithium-ion batteries for its electric vehicles (EVs). The companies aim to achieve the "best approach" for collecting and disassembling end-of-life batteries from Ford EVs to produce all-new batteries in a closed-loop supply chain.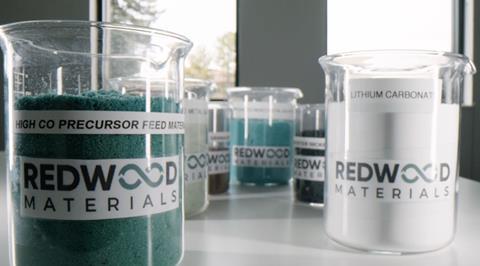 The partnership will ensure that the US automaker is supplied with battery materials by Redwood. According to Ford, they plan to make EV battery production both more sustainable and cost-effective through the recycling of materials.
"Ford is making electric vehicles more accessible and affordable through products like the all-electric F-150 Lightning, Mustang Mach-E and E-Transit, and much more to come," said Jim Farley, Ford president and CEO. "Our partnership with Redwood Materials will be critical to our plan to build electric vehicles at scale in America, at the lowest possible cost and with a zero-waste approach."
The OEM is investing over $30 billion in electrification through 2025, including the Ford and Redwood partnership. Redwood founder and CEO J B Straubel is no stranger to EV production having been the co-founder and former chief technology officer of Tesla.
Redwood offers recycling technology that can recover more than 95% of essential materials from batteries at the end of their life, such as nickel, cobalt, and lithium and copper. The material producer is also able to produce anode copper foil and cathode active materials for building batteries. This helps Ford localise battery supply chains and reduce costs, increasing the supply of essential elements, and reducing reliance on imports and mining raw materials.
Developments in the North American automotive battery chain will be under discussion at next week's Automotive Logistics and Supply Chain Global Live conference, which takes place in Detroit and online between October 5-7
The partnership develops the automaker's previously announced plans to increase battery production through multiple BlueOvalSK plants in North America, beginning in the mid-2020s.
BlueOvalSK is a joint venture between Ford and SK Innovation, awaiting the agreements to be finalised, regulatory approvals, and other conditions.
Last week, Ford revealed that it had begun pre-production of its all-electric F-150 Lightning utility model at its new Rouge Electric Vehicle Center in Dearborn, Michigan.
This follows a string of announcements by Redwood. Namely, that the company recently raised more than $775m, an amount that technology news source TechCrunch reported as including $50m from Ford.
Global focus on localisation
Developments on the battery recycling front have been accelerating in recent weeks. Battery maker CATL announced last week that they had formed a strategic partnership with German chemicals firm BASF in battery materials solutions that will support the recycling of batteries and CATL's plans for the production of battery cells in Europe.
CATL is also investing heavily in China, with RMB 58.2 billion ($529m) channelled into five projects in mainland China, in Fujian, Guangdong and Jiangsu provinces. These sites are expected to be finished within the next three years to meet the rising demand for EVs and lithium batteries in the Chinese market.
Most battery recycling capacity is currently located in Asia, meaning most batteries used in other markets are sent to Asia for processing.
According to the latest battery supply chain report from Ultima Media's business intelligence unit, Automotive, China accounts for more than two-thirds of all recycling facilities, handling the roughly 100,000 tonnes of batteries currently being recycled.
However, the Ford and Redwood agreement is specific to North America, indicating a broader trend of companies seeking to localise their supply chains, looking to build up recycling and closed loop methods in the US as demand for EV batteries increases.