Ford is investing $3.5 billion in a battery-making facility in the US state of Michigan. The 35 GWh plant in Marshall will make lithium iron phosphate (LFP) batteries for its electric vehicles (EVs) from 2026. It will be able make enough battery cells for 400,000 EVs per year.
Ford said it will be installing LFP batteries in its Mustang Mach-E this year and in its F-150 Lightning in 2024. Those batteries are being supplied by battery maker CATL from China. For the plant in Michigan, Ford said it would be licensing CATL technology but will own and operate its own facility, rather than as a joint venture.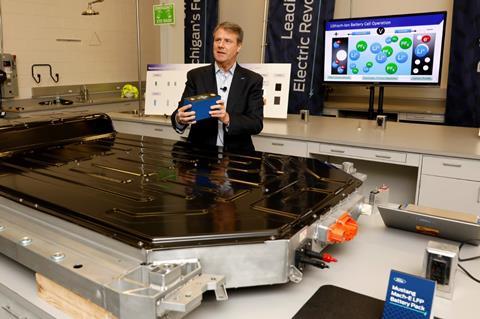 "We are committed to leading the electric vehicle revolution in America, and that means investing in the technology and jobs that will keep us on the cutting edge of this global transformation in our industry," said Bill Ford, Ford executive chair. "I am also proud that we chose our home state of Michigan for this critical battery production hub."
Like other carmakers in North America, Ford is keen to localise battery production as close to its assembly facilities as possible. Doing so avoids the cost and risk of shipping EV batteries over long distances. Under the regulations the US Inflation Reduction Act, which was introduced last year, companies are also incentivised to cut emissions from their vehicles and from the supply chain supporting their production. Shipping heavy EV batteries across the world negates the tax incentives included in IRA because of the carbon emitted.
The act also stipulates that 40% of the critical minerals in a vehicle's battery must be extracted or processed in the US, or in a country with which the US has a free trade agreement. That increases to 80% after 2026 when the Ford battery plant is due to open. At the same time, 50% of the value of the battery components in an EV must be manufactured or assembled in North America. The batteries that Ford is importing from CATL in China will make its EVs ineligible for deductions from the ticket price.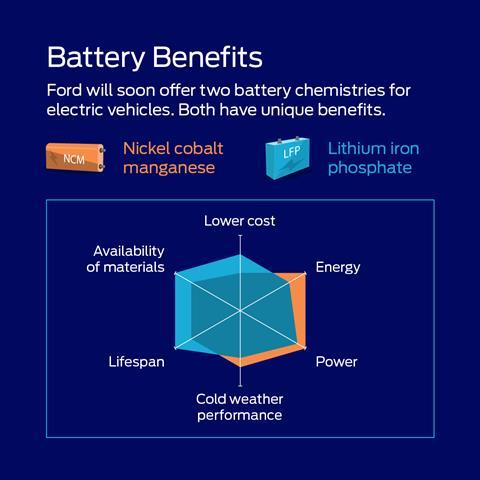 Last year Ford announced a series of initiatives for increasing localised battery capacity and raw materials in support of its target to make 600,000 EVs a year globally by late 2023. Ford wants to increase that to 2m annually by the end of 2026 and is investing $3.7 billion in assembly plants in Michigan, Ohio and Missouri. Those plans include localising battery materials in North America. The company and its battery partners have Ford and its battery partners have announced $17.6 billion in EV investments since 2019.
LFP batteries are cheaper to produce at scale compared to lithium batteries with nickel cobalt manganese (NCM) while being durable. Ford said that offering LFP as a second battery chemistry, in addition to nickel cobalt manganese (NCM), allows Ford customers to choose an EV "with unique battery performance characteristics most aligned with their needs".