General Motors (GM) has signed a definitive agreement with battery material supplier Element 25 to support the production of more than 1m electric vehicles (EVs) annually in North America.
The Australia-based Element 25 will supply GM with 32,500 metric tons of battery-grade high-purity manganese sulfate, a metal that is used as a raw material for the cathode precursor in many lithium-ion batteries, over seven years. GM said the agreement "continues to strengthen GM's domestic supply base for EV production".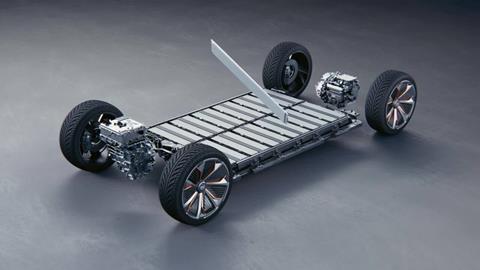 Under the agreement, GM will provide an $85m loan to Element 25, to partially fund the construction of a new Louisiana-based facility to produce the material and is set to begin operations in 2025. Element 25 will produce the material at the facility by processing manganese concentrate from its mining operations in Australia, and is expected to be "the first facility of its kind in the United States" according to GM. Element 25 is set to invest $290m to build the 230,000sq. ft facility. Site preparation is due to begin in the third quarter of this year, and is expected to create around 200 permanent jobs when fully operational.
"GM is scaling EV production in North America well past 1m units annually, and our direct investments in battery raw materials, processing and components for EVs are providing certainty of supply, favourable commercial terms and thousands of new jobs, especially in the US, Canada and free trade agreement countries like Australia," said Doug Parks, executive vice president, Global Product Development, Purchasing and Supply Chain at GM. "The facility E25 will build in Louisiana is significant because it's expected to be the first plant in the United States to produce battery-grade manganese sulfate, a key component of cathode active material which helps improve EV battery cell cost."
Justin Brown, managing director, Element 25 said: "E25 is working to be a leading source of high quality, vertically integrated, traceable and ESG-compliant battery material to the global EV industry and GM's support does more than accelerate our expansion in the US. Together, we are creating a resilient and sustainable North American supply chain that will help introduce millions of customers to the performance and environmental benefits of EVs."
Similarly, Stellantis signed a binding agreement with Element 25 in January for the supply of the material. The agreement runs for five years, with shipments set to begin in 2026, with provisions to extend the term and increase volumes. Stellantis' deal with the supplier was for a total volume of 45 kilotons, and Stellantis also agreed to make an equity investment in the company.
GM has been announcing a flood of investments into both EVs and internal combustion engine (ICE) vehicles over the past month, which have been covered on our sister site Automotive Manufacturing Solutions. The carmaker is set to invest in a new battery material facility in North America with POSCO Future M, in the second phase of their joint venture estimated to exceed $1bn. Earlier this month, GM signed a deal with steel manufacturer ArcelorMittal North America for the supply of its XCarb recycled and renewably produced green steel. In April, GM partnered with Samsung SDI to build a new $3billion battery cell manufacturing plant in North America. The plant will begin operations in 2026 and have more than 30GWh of capacity, bringing GM's total US battery cell capacity to about 160GWh when at full production. GM and POSCO Chemical also partnered in March last year to announce a new plant for CAM processing in Quebec, Canada. In 2022, GM announced it would be spending $6.6billion across Michigan to construct a new manufacturing plant and develop EV pickup production.
On the ICE side, GM is investing $920m in its Ohio DMAX ICE engine plant, $632m in its Fort Wayne ICE truck assembly plant, and $1bn in its Flint ICE truck plants.