Honda has become the latest OEM to partner with Korean battery giant LG to build lithium battery capacity for electric vehicle (EV) production the US, after announcing a joint investment of $4.4 billion and a new joint venture, expected to be finalised by the end of 2022.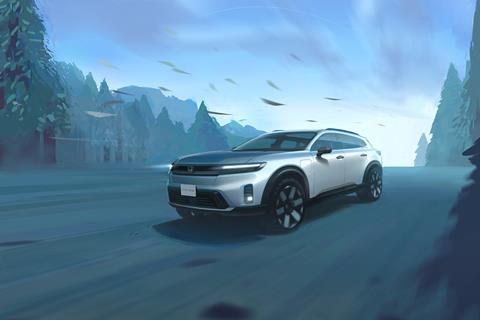 The collaboration comes after LG formed partnerships with GM and Stellantis to produce cells in the US. LG and GM formed Ultium Cells in 2020, to produce the Ultium powertrain on which GM's high-end EV line is currently based. In October 2021 Stellantis partnered with LG, announcing a second joint venture with Samsung just four days later.
Honda's own agreement with LG comes over a year after it announced it would be partnering with GM to use the Ultium powertrain to make cars for the US market, starting with the 2024 Prologue SUV.
The new joint venture with LG is expected to have an annual production capacity equivalent to most planned gigafactories, at 40GwH. Construction of a new site for the facility will start in early 2023, to begin mass production by 2025. As yet, a location for the factory has yet to be agreed but it be based on the logistics needs of Honda's EV production within the US.
The plant will be designed to produce pouch-type cells, a design relatively new to the EV market. Most EV batteries are still using prismatic cells, with a small number of extremely high-end, relatively low-energy density hybrid powertrains using cylindrical cells. Pouch-type cells are significant because, although it is unlikely the factory will move immediately to solid state, they are the only cells suitable for also making eventual solid-state batteries.
Youngsoo Kwon, CEO of LG, explained that the project was part of an overall move to localisation within the US market, a key point for automakers since the introduction of the Inflation Reduction Act (IRA). "Our joint venture with Honda, which has significant brand reputation, is yet another milestone in our mid- to long-term strategy of promoting electrification in the fast-growing North American market.
"Since our ultimate goal is to earn our valued customers' trust and respect, we aspire to position ourselves as a leading battery innovator, working with Honda in achieving its core initiatives for electrification, as well as providing sustainable energy solutions to discerning end consumers," continued Kwon.
"Honda is working toward our target to realise carbon neutrality for all products and corporate activities the company is involved in by 2050," said Toshihiro Mibe, president and CEO of Honda. "Aligned with our longstanding commitment to build products close to the customer, Honda is committed to the local procurement of EV batteries, which is a critical component of EVs."