Toyota Motor North America has signed a battery supply deal with LG Energy Solution that will start in 2025. The battery maker will supply Toyota with lithium-ion batteries for its electric vehicle (EV) production in the US. The deal represents LG Energy's largest single supply agreement secured outside of any joint venture deals.
LG Energy Solution will make the battery modules at its facility in Holland, Michigan and supply Toyota with an annual capacity of 20GWh from 2025. It is investing $3 billion in the Holland facility to set up new production lines exclusively for Toyota, with work expected to be complete by 2025.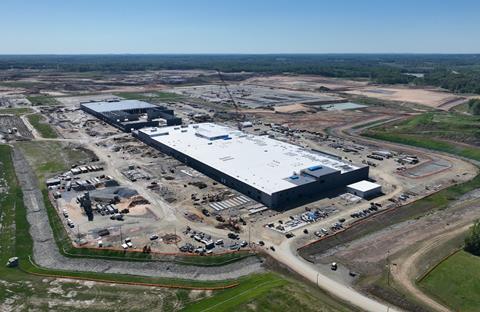 LG has eight battery manufacturing facilities currently operating or under construction in North America.
"Having secure supplies of lithium-ion batteries at scale with a long-term relationship to support Toyota's multi-pathway approach and growth plans for BEVs in North America is critical to achieve our manufacturing and carbon reduction plans," said Tetsuo Ogawa, president and CEO of Toyota Motor North America.
Robust supply strategy
The new arrangement will begin with shipments of battery modules from Michigan to Toyota Motor Manufacturing Kentucky, located in Georgetown, to be assembled into packs for fitment into a new, three-row, battery SUV. Production of the new electric SUV is scheduled to start in 2025.
Back in May Toyota reported that batteries for the new electric SUV would be made in at its forthcoming battery production hub in Toyota North Carolina. A spokesperson for the carmaker told Automotive Logistics that "in preparation for the growing demand of EVs in the coming years, Toyota is following a strategy that includes both in-house production and third-party procurement to ensure a robust supply of batteries for future products".
Toyota added that in addition to evaluating batteries coming from Toyota Battery Manufacturing North Carolina (TBMNC), Toyota's recently announced new battery lab in Michigan will also support the evaluation of EV batteries manufactured for Toyota by LG Energy Solution. The company said that evaluating batteries included the overall systems planned for its North America-led vehicle production. That includes using level 2 and 3 charging as well as connectivity to both power sources and infrastructure.
"Basically, making sure that the batteries we use in our vehicles will be the right size, for the right application, and work with the right systems, like charging," said the spokesperson.
Toyota's announced battery strategy includes different battery chemistries and types of battery. The company said that even within the BEV segment there is room to provide options that will appeal to different customer needs and the batteries from LG Energy Solutions fall into that strategy.