GM is putting its money where its mouth is when it comes to stated goals for electric and autonomous vehicle production in North America. Closer integration with its battery suppliers is key to success, as is its strategic alliance with Honda, writes Marcus Williams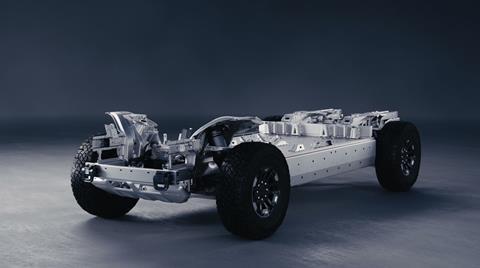 By the end of 2025 GM wants to hit annual electric vehicle (EV) sales of 1m units in its two largest markets, North America and China. The carmaker intends to offer 30 new EV models, with Buick, Cadillac, Chevrolet and GMC all represented, and it says that more than two thirds of those models will be available in North America.
"By the end of the decade, GM will rapidly scale EV manufacturing, with more than 50% of its factories in North America and China capable of EV production by 2030," says a spokesperson for the carmaker, adding that it was aiming to end sales of new US gasoline-powered light duty vehicles by 2035.
What has become crucially important for GM, as it has for other carmakers in North America specifically, is that to realise those goals the carmaker needs to localise lithium-ion battery supply.
Localising battery supply
This is now a government-backed priority in the US, following an executive order signed by President Biden designed to fortify US supply chains, including those supporting the production of EVs. The US administration has its own stated goals of making 50% of overall vehicle sales in the country electric by 2030.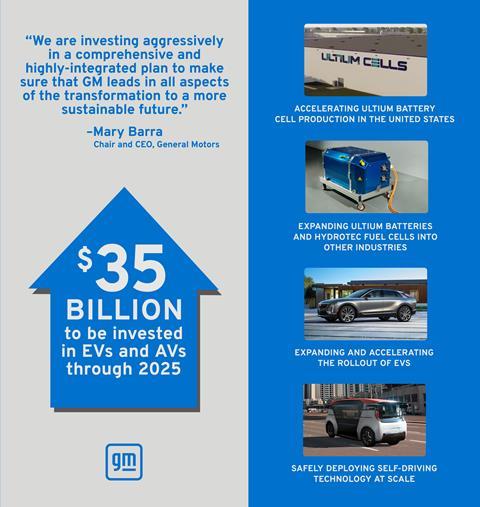 Lithium battery production is largely concentrated in Asia and the materials used to make them are spread further, from China to Africa, Australia and South America. As well as the significant safety and quality issues to overcome when shipping lithium batteries and parts overseas, the costs and regulatory hurdles required to move what is designated by the UN as a Class 9 dangerous good, from those regions to North America are becoming too high. Localisation of battery production is a prerequisite as the global automotive industry moves toward its regulatory driven electric future.
According to figures from market analyst, IHS Markit, EVs will make up 32% of total vehicle sales globally by 2030, from the 5.5% they currently make. That could be as much as 10% higher if the top 12 OEMs, which account for 80% of global production, actually hit all of their respective targets for EV sales.
GM EV developments in numbers
30 new EV models by 2025
1m sales of EVs by 2025
50% GM factories capable of EV production by 2030
$35 billion investment in EV/AV between 2020-2025
$4.6 billion joint investment with LG Energy Solution in two US battery plants
$85m joint investment with Honda in Fuel Cell System Manufacturing
It remains to be seen how the sales of pure EVs pan out in North America, and the US in particular, against the stated goals of the Biden Administration. However, while EV sales in North America accounted for just 2.8% of the market last year, they are forecast to increase to 10% by 2025 and 20% by 2030, according to information from Ultima Media's business intelligence unit, Automotive. To support that battery production in North America is set to grow from 44 GWh in 2020 (with most of that contributed by Tesla) to 280 GWh in 2030.
With that in mind, carmakers are climbing over each other to do deals with battery suppliers and invest in local production, not least because the battery represents 30% or more of the value of an EV, and established OEMs and tier suppliers want to take more control of the battery chain.
Investment plan
GM is no exception. In June this year the carmaker said it would be increasing its EV and autonomous vehicle (AV) investments for the period between 2020 and 2025 to $35 billion, representing a 75% increase on its pre-pandemic commitment.
"We are investing aggressively in a comprehensive and highly-integrated plan to make sure that GM leads in all aspects of the transformation to a more sustainable future," said GM CEO Mary Barra at the time. "GM is targeting annual global EV sales of more than 1m by 2025, and we are increasing our investment to scale faster because we see momentum building in the United States for electrification, along with customer demand for our product portfolio."
The carmaker reported positive demand for the two Hummer EV models it announced, as well as for the Cadillac Lyriq and Chevrolet Silverado electric pick-up.
In a major step toward its EV goals, GM is developing its own battery cell manufacturing capacity and in line with other deals being made between the OEMs and the battery makers in North America. GM has signed an agreement with LG Energy Solution called Ultium Cells. That partnership is investing $4.6 billion in two battery cell manufacturing facilities currently under construction in the US.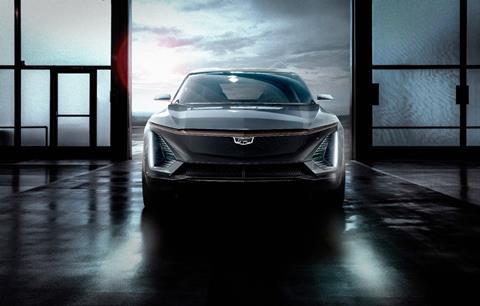 "GM's joint venture with LG Energy Solution and our investments to build two battery cell manufacturing plants – one in Lordstown, Ohio and another in Spring Hill, Tennessee – will enable the companies to build solid and stable US-based supply chains that enable everything from research, product development and production to the procurement of raw components for batteries," says a GM spokesperson.
The carmaker says the partnership will help to reduce emissions, lower battery-cell costs and accelerate the adoption of EVs.
The first of those plants to open will be Lordstown, in early 2022, while the Spring Hill plant will open in late 2023. Until then, battery cells for vehicles being built on the Ultium platform will be supplied from the LG Energy Solutions plant in Ochang, South Korea.
GM was keen to stress that the Ultium batteries would be different to those that LG had been supplying for the Chevrolet Bolt EV, which have caused fires in that vehicle. GM shut that plant on August 23 this year until the problem with the batteries was resolved and it will not open now until November 1. The carmaker says it is continuing to work with the battery maker to accelerate production of new modules for the Bolt and prioritising recall repairs on 140,000 existing Bolt EVs.
Wolfspeed agreement
To further secure its battery supply chain in North America, GM has also signed an agreement with US electronic subcomponents supplier Wolfspeed (formerly Cree) to secure the supply of silicon carbide devices that the carmaker said will enable it to install more efficient propulsion systems for its electric vehicles (EVs).
The silicon carbide supplied by Wolfspeed will be used in the integrated power electronics built into GM's Ultium Drive units, which will power the next generation of GM's EVs.
Speaking in October, Shilpan Amin, GM vice-president of global purchasing and supply chain said: "Customers of EVs are looking for greater range, and we see silicon carbide as an essential material in the design of our power electronics to meet customer demand. Working with Wolfspeed will help ensure we can deliver on our vision of an all-electric future."
As a part of the agreement, GM said it would participate in the Wolfspeed Assurance of Supply Program, which is intended to secure domestic, sustainable and scalable materials for EV production. All three are priorities for GM and other carmakers in the US as they currently struggle to secure adequate supply of semiconductors and other materials for the future of EV production.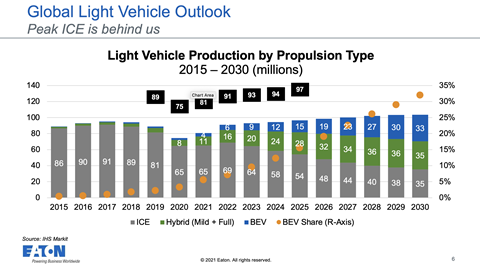 Wolfspeed will be supplying GM with silicone carbide from its Mohawk Valley fabrication facility (fab) in Marcy, New York, reputed to be the world's largest silicon carbide fabrication facility, which will open in early 2022. That facility will produce 200mm silicone wafers for microchip manufacture.
That move is just one example of where carmakers are more closely integrating their supply chains for subcomponent production in the wake of the semiconductor shortage, which has hit global vehicle production severely in 2021. Market analyst IHS estimates the annual loss in global vehicle production will hit 10.5m this year.
Tough competition
Carmakers are eager not to jump straight into another supply crisis and vertical integration for the development of batteries is now a priority. This year Ford signed a joint venture to manufacture battery cells and finished packs in the US with LG Energy Solution and SK Innovation (SKI). In October Stellantis also signed a deal with LG Energy Solution to make battery cells and modules at a facility in the US.
Even with this rate of vertical integration carmakers are in tough competition with each other, and other industries, for the minerals used to make the lithium-ion batteries driving their future product. They will need better visibility of the supply chain if a disruption similar to the semiconductor shortage is to be avoided.
Mining those materials in the US promises a reduction of overall costs compared to importing from overseas. GM has signed an MoU with GE Renewable Energy to evaluate opportunities for the supply of heavy and light rare earth materials and magnets, copper and electric steel, used in EVs and renewable energy equipment.
The carmaker is also looking to secure the local supply of lithium for EV production in a venture with southern California's Salton Sea.
"In regards to raw materials' supply, GM has also formed a strategic investment and commercial collaboration with Controlled Thermal Resources (CTR) to secure local and low-cost lithium from CTR's Hell's Kitchen Lithium and Power development in the Salton Sea Geothermal Field, located in Imperial, California," says a spokesperson for GM.
Honda partnership
GM is also securing the sourcing and supply of EV components through its agreement with Honda. Last year the carmakers signed a strategic alliance in North America that includes a joint sourcing initiative covering essential components, including motors, batteries and starters. The purchasing collaboration will also cover logistics and localisation, research and development, and services.
The two carmakers will collaborate on a range of vehicles to be shared under each company's distinct brands.
"The alliance will help both companies accelerate investment in future mobility innovation by freeing up additional resources," said Mark Reuss, president of GM when the alliance was announced. "Given our strong track record of collaboration, the companies would realise significant synergies in the development of today's vehicle portfolio."
The announcement builds on the agreement signed between the companies in April 2020 to jointly develop two new EVs for Honda based on GM's Ultium Drive EV platform, powered by the batteries supplied by LG Energy Solution.
"The relationship between Honda and GM began more than two decades ago, and we have a strong track record of collaboration around electrification," said GM's spokesperson. "This includes work on fuel cells and the Cruise Origin, an electric, self-driving and shared vehicle. Honda also joined GM's battery module development efforts in 2018."
Honda's first fully electric SUV, which will be called Prologue, will go on sale in early 2024 and will be joined later that year by an all-electric Acura. Both will run on the EV platform powered by the Ultium batteries developed by GM and LG.
Honda is also partner on the development of the Cruise Origin AV, which will be built at GM's Factory Zero Detroit-Hamtramck Assembly Center starting in early 2023.
The announcement of the parts sharing initiative comes shortly after Steve Carlisle, GM's executive vice-president and president of GM North America, said the company would be seeking to use technology and build partnerships to avoid future supply problems including for EV batteries.
Brownstone fuel cells
GM also has a manufacturing joint venture with Honda for hydrogen fuel cell production in Brownstone Michigan, US. Fuel Cell System Manufacturing will make the fuel cells at GM's existing battery pack manufacturing facility in Brownstone. Between them, GM and Honda have invested $85m in the venture. The fuel cells are planned for use in future vehicles from each carmaker.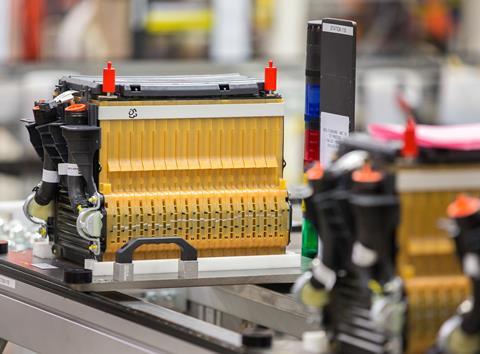 "In addition to advancing the performance of the fuel cell system, GM and Honda are working together to reduce the cost of development and manufacturing through economies of scale and common sourcing," said GM's spokesperson.
GM said that through the partnership with Honda both companies will be able to leverage their scale in buying supplies at a lower cost and use the savings to reinvest in future products.
Closer partnerships with OEMs and suppliers, and a more vertically integrated battery supply chain are essential to the future of GMs EV production in North America and beyond. From a logistics and supply chain perspective, the carmaker says it is focused on working with its partners to secure a stable, sustainable supply of materials and parts necessary for its future EV programmes that will help make its all-electric future a reality.
GM Brownstone plant output


· Lithium-ion battery pack production for Chevrolet Malibu Hybrid and CCA replacement pack production – Gen 1 and 2 Chevrolet Volt, Chevrolet Spark EV, Chevrolet Silverado eAssist, Cadillac ELR, GMC Sierra eAssist, and the Buick LaCrosse Hybrid
· Autonomous vehicle component assemblies as part of Cruise Autonomous Vehicle programme – roof module assemblies, side radar modules, and autonomous driving system computers.
· Roof modules integrate special equipment for AV operation such as Lidar, cameras, sensors and other hardware, and are assembled on a dedicated line at the facility.
· Additionally, the autonomous driving system computer and radar modules are final-assembled and tested at the facility.