Following the opening of its battery logistics centre in Bremen, Germany in February, Mercedes-Benz Cars is also opening a new 2.6-hectare logistics facility at its Jawor plant in Poland. Mercedes-Benz recently added lithium-ion battery production alongside engine assembly at the Jawor plant.
The facility will be linked by rail, as with the Bremen facility, and is designed to make the distribution of parts, notably lithium-ion batteries, more sustainable.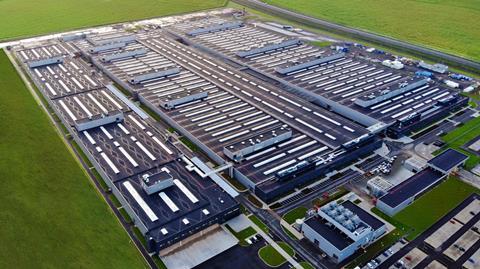 DB Cargo is supporting Mercedes-Benz in the provision of rail services. Parent company Deutsche Bahn already uses green electricity to for more than 60% of standard traction current and its freight customers have the options of booking journeys that are powered 100% by renewable energy, such as that generated by wind and hydro power. DB calls that service Eco Plus and it applies to the delivery of all vehicle parts by rail to the Mercedes-Benz plants and also to the shipping of brand-new vehicles.
"Thanks to the new rail yard in Jawor, we will be able to conduct a large part of our transports by rail," said Jörg Burzer, head of production and supply chain management at Mercedes-Benz Cars, in a post on LinkedIn. "I look forward to this further important step towards a CO2-neutral supply chain – a key success factor of our Ambition 2039."
Ambition 2039 is the company's initiative to make all of its cars and light commercial vehicles carbon neutral, including in their production and through inbound and outbound logistics. This applies to more than 30 car and van plants. The carmaker said an important part of that initiative was to make battery production carbon neutral worldwide by 2022.
Battery logistics will be under discussion at the forthcoming Automotive Logistics and Supply Chain conference being held in Munich, Germany between May 2-4 this year. Check out session six on the first day of discussions – Electric shock to the supply chain: charging up battery logistics
"For our global production network, we rely on a sustainable and environmentally friendly transport mix," said Burzer in February this year, adding that the intelligent combination of sustainable transport modes, as at the Bremen battery logistics centre, was a key prerequisite for this.
According to Mercedes, the centre for battery logistics in Bremen is the linchpin of a climate neutral logistics concept for battery systems being installed on the Mercedes-EQ model EQE. Starting this year, DB Cargo will transport these systems from the Mercedes-Benz plant in Hedelfingen, Stuttgart, a distance of some 650km. It will do so using green electricity.
"A single freight train can carry the freight of up to 52 trucks and automatically saves 80-100% of CO2 emissions compared to road transport," said Dr Sigrid Nikutta, DB board member for freight transport. "We are proud that Mercedes-Benz entrusts us not only with the delivery of new vehicles to all European countries, but also with the supply of the plants with the new heart of the e-cars – the vehicle batteries."
DB Cargo is able to manoeuvre trains alongside the assembly halls at Bremen to unload them. The lithium-ion batteries are temporarily stored in a trailer yard and a battery hall, and are prepared for delivery to the assembly line. Electric tractors are used to handle the loads.