Mercedes-Benz has joined Stellantis and Total in taking shares in Automotive Cells Company, with plans to further expand battery cell production and regional supply chains in Europe. The German carmaker is planning eight global gigafactories, including four in Europe.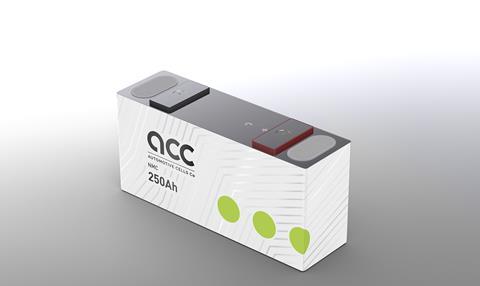 Daimler's Mercedes-Benz division has taken a 33% stake in battery cell manufacturer Automotive Cells Company (ACC), joining rival carmaker Stellantis and energy provider TotalEnergies, which each have an equal third in the company. Together the companies aim to increase ACC's industrial capacity to at least 120 gigawatt hours (GWh) by 2030, with plants to build further gigafactories along with those ACC already plans.
The purpose of the partnership is to develop cells and battery modules and "help ensure that Europe remains at the heart of the auto industry, even in an electric era," said Daimler chief executive Ola Kaellenius.
The partnership will build on the battery systems expertise brought to it by Saft, an affiliate of TotalEnergies, as well as benefit from Stellantis's mobility prowess, and the research and development expertise of Mercedes-Benz.
Mercedes-Benz will invest a "mid-three-digit million-euros" sum in the project in 2022. However, the OEM said its overall contribution is expected to remain under €1 billion ($1.17 billion).
Overall, the companies will invest €7 billion in expanding capacity at ACC, supported by subsidies and financed by equity and debt. ACC has already received €1.3 billion in French and German funding.
Stellantis and TotalEnergies formed ACC last year with support from the French, German and European authorities to create a European battery champion for electric vehicles. According to the Gigafactory Database provided by Ultima Media's business intelligence unit, ACC has specified two gigafactories so far – in Hauts-de-France, which is set to open in 2023 and a €2 billion investment in a site at Kaiserslautern, Germany, scheduled to launch the following year. Both are aiming for 8 GWh, rising to 24 GWh by 2030.
As with most other carmakers, Mercedes-Benz aims to become fully electric by 2030 and will support production by building eight battery gigafactories, including one in the US and four in Europe. Daimler has confirmed that ACC is planning to expand European production.
Shifting priorities
Mercedes-Benz has up to now worked largely in partnership with two major battery cell manufacturers, China's CATL and Farasis.
There have, however, been reports of an apparent suspension of Daimler's plans to begin producing battery cells with its Farasis Energy in the eastern region of Saxony-Anhalt in Germany.
While Daimler told Automotive Logistics that it remains dedicated to the partnership with Farasis, the Chinese company has signalled "shifts in priorities" and initially reported that the project was going to be delayed by two-and-a-half years from April 2022 to October 2024.
Other reports allege that the cooperation has ended altogether. However, Daimler confirmed that Farasis remains one of its "strategic partners for Mercedes-Benz battery cells."
Farasis has announced further expansion of Chinese battery cell production, prioritising output in China over Europe.
Whether there is any veracity to the potential split between the two, given that OEMs and manufacturers are increasingly looking to localise their supply chains, which are still largely reliant on Asian producers, more regional partnerships like ACC may soon become more prominent.
For more on the development of the global lithium-ion battery supply chain, download our special report