Panasonic Energy will be supplying batteries for luxury EV maker Lucid under a new multi-year agreement announced by the two companies on December 13.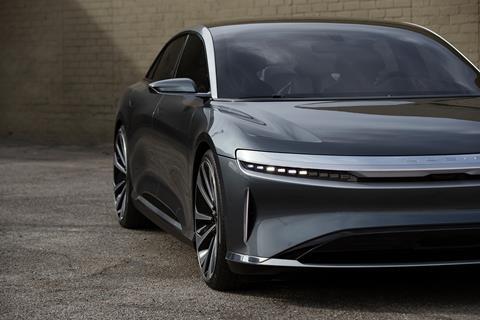 Panasonic will be supplying lithium-ion batteries from its facility in Osaka, Japan and later from its battery plant in the US, which is being built in De Soto, Kansas. The batteries will be fitted into the Lucid Air and upcoming Lucid Gravity SUV, both made at Lucid's plant in Casa Grande, Arizona.
Construction on the De Soto plant began in November this year and it is expected to be operational by March 2025. It is the second of Panasonic's EV battery facilities in the US, following the establishment of Panasonic Energy of North America (Pena) facility in Sparks, Nevada. The plant will expand production of the company's 2170 EV batteries and initial production is expected to hit 30 GWh.
In October this year Panasonic Energy signed an MoU with Nouveau Monde Graphite in Canada for the supply of graphite, which is an anode-active material used in lithium-ion batteries.
"Panasonic is a fantastic partner with both innovative technology and depth of experience," said Peter Rawlinson, Lucid's CEO and chief technology officer. "This agreement will help us meet the growing demand for lithium-ion batteries as we continue to ramp production of the full Lucid Air line-up in 2023 and expect to begin production of our Gravity SUV in 2024."
Lucid is working with Glovis America for the outbound delivery of its Lucid Air. Those vehicles are delivered to a Glovis facility in Arizona where they are quality checked and charged. From there Glovis takes control of the outbound shipment to a forward destination centre and PDI location.
Glovis has modified a real-time tracking system it already uses for aftersales parts visibility to trace the vehicles through the delivery process.