Renault has signed a supply deal with lithium battery maker Verkor for the long-term supply of batteries from 2025. Verkor will supply Renault with batteries equal to 12 GWh annually. Renault acquired a 20% stake in Verkor back in 2021.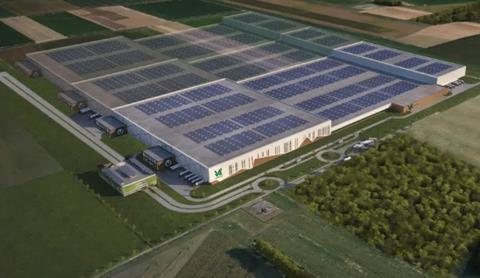 The first batteries will be supplied for the forthcoming Alpine pure electric C-Crossover GT, which will be manufactured in Dieppe, France. Verkor will supply those batteries from its gigafactory in Dunkirk, which is under construction and due to start production in 2025.
"This commercial partnership allows us to secure a long-term supply of electric batteries and to ensure reinforced traceability of the elements which compose them," said François Provost, head of purchasing, partnerships and public affairs at Renault Group. "It is in line with the ambition of the Group and its future entity Ampere dedicated to electric vehicles and software, to control the entire electric value chain."
The carmaker intends to spin off its EV unit Ampere by the end of this year, with partners Nissan and Mitsubishi expected to invest in the new company.
Since Renault made its investment in Verkor the two companies have worked together at the Verkor Innovation Centre (VIC) in Grenoble to approve the technical quality and commercial production process of the battery products Verkor will be supplying from the Dunkirk gigafactory.
"The trust that Renault Group has shown in us since the beginning is now materialised in this long-term commercial partnership," said Benoit Lemaignan, co-founder, and chairman of Verkor. "This is further evidence of the attractiveness and credibility of our project as we raise the necessary funds to build our gigafactory in Dunkirk. Manufacturing batteries in Europe and controlling the value chain are fundamental to the energy transition."