Stellantis and LG Energy Solution have signed a memorandum of understanding (MoU) to establish a joint venture plant to produce battery cells and modules for the North American automotive market. The move is part of the carmaker's aim to make 40% of the cars it sells in the US electric by 2030, in line with the aims of the US government.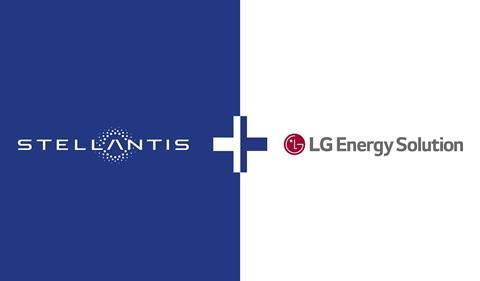 Stellantis intends to use the new plant to supply battery cells and modules for its plug-in hybrid and all-electric vehicles to plants across North America. The carmaker has not yet revealed the location of the gigafactory but it is scheduled to begin operations in the first quarter of 2024 with a capacity of 40 GWh. That will contribute to the carmaker's goals of having a total minimum of 260 GWh battery capacity across its portfolio by 2030.
"Today's announcement is further proof that we are deploying our aggressive electrification road map and are following through on the commitments we made during our EV Day event in July," said Carlos Tavares, CEO of Stellantis.
Partnership prospects
The two companies have worked together on EVs since 2014 when parent company LG Chem was selected by Stellantis (then Fiat Chrysler Automobiles) to provide lithium-ion battery pack system and controls for the Chrysler Pacifica Hybrid, the automotive industries first electric minivan. LG Chem span off the new business division LG Energy Solution to specifically cater for battery production at the end of last year.
This latest announcement further cements Stellantis' partnership with the Korean battery supplier.
"Establishing a joint venture with Stellantis will be a monumental milestone in our long-standing partnership," said Jong-hyun Kim, president and CEO of LG Energy Solution. "LGES will position itself as a provider of battery solutions to our prospective customers in the region by utilizing our collective, unique technical skills and mass-producing capabilities."
Stellantis intends to inject €30 billion ($35 billion) into electrification and software development by 2025, It also said it would be 30% more efficient than the industry relating to overall capex and R&D spend versus revenues.
This comes amid an overall drive towards establishing joint ventures to produce EVs and their essential components.
Battery chain security
This latest joint venture is the latest in a growing number between OEMs and battery makers as the industry in North America seeks to integrate with suppliers more closely and localise production in the interests of supply chain security. Most lithium battery production is currently produced in Asia.
General Motors is also investing heavily in EV and battery manufacturing capacity in North America via its Ultium Cells joint venture with LG Energy Solution.
In June this year the carmaker said it would be increasing its EV and autonomous vehicle (AV) investments for the period between 2020 and 2025 to $35 billion, representing a 75% increase on its pre-pandemic commitment (read more about GM's EV and battery plans in the forthcoming Autumn edition of Automotive Logistics and Finished Vehicle Logistics magazine).
Ford also recently signed a deal with South Korean battery maker SK Innovation (SKI) as part of a major plan that includes a $5.6 billion investment for a mega-campus in Stanton, Tennessee named Blue Oval City, which will house the joint venture BlueOvalSK battery plant.
Ford Motor is investing $11.4 billion on new plants, which aim to ramp up regional battery production capacity in the US.
According to the latest EV battery supply chain analysis report from Ultima Media's business intelligence unit, EV sales are forecast to increase to 26% of overall production by 2030 and EV battery production in North America is set to grow from 44 GWh in 2020 to 280 GWh by that year.
Watch sessions from the recent Automotive Logistics and Supply Chain Global Live conference to learn more about OEM plans to secure battery production and supply for EV growth in North America