BMW's division in South Korea is investing KRW 30 billion ($24.7m) to improve logistics at its Anseong parts distribution centre (PDC). The company is enlarging the existing facility to 88,000 sq.m, an expansion of more than 30,000 sq.m. In doing so it said it would build on the availability of 86,000 parts and improve delivery times to the aftermarket.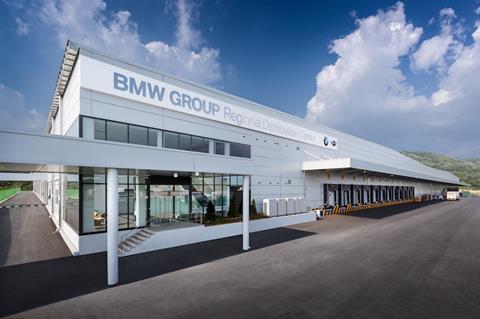 BMW Korea said part of the investment being made would be in upgrading its parts supply processes, from ordering parts to receiving, storing and shipping.
The Anseong facility provides same-day delivery by 5pm on parts orders taken early in the day, with a next-day delivery service by 7am on orders taken later.
The company has also announced plans to improve productivity and efficiency by building smart logistics systems that actively use artificial intelligence and by introducing automated processes to some of the logistics systems.
BMW has also completed parts supply testing for supplies outside South Korea using Eurasian Railways. The BMW South Korea wants to make a greater use of rail in addition to its existing air and sea lanes, a move it said would increase supply to customers in the region.
The move is just one being made by BMW Group Korea to restore consumer confidence following a spate of engine fires that affected vehicles sold in the country last year. Others include KRW 12.5 billion expansion of its driving centre and will introduce track certification for the BMW M Level 2 programme, which provides advanced driver training for high-performance vehicles.
The engine fires, which affected 40 vehicles were related to a faulty exhaust gas recirculation unit. BMW was accused by South Korea's Ministry of Transport of delaying recalls and concealing defects, which was refuted by the carmaker. It eventually had to recall 172,000 vehicles across its model range between July and October last year. In a statement the company did say it was committed to solving the organisational shortcomings revealed by last year's recall, especially in the aftersales part of the business, and was working on "transparent and customer-friendly services".
"The valuable lessons learned through the recall will continue to create innovative programmes that will benefit our customers together with our headquarters and dealers," said Sang-chun Chung, managing director of BMW Group Korea Aftersales.
The company was keen to state that was able to achieve a recall fulfilment rate of more than 90% in just four months.
BMW Korea will now introduce an Aftersales Subscription Service for customers who are experiencing difficulties securing aftersales services once beyond the warranty period and said it would continue to expand existing digital and mobility services.