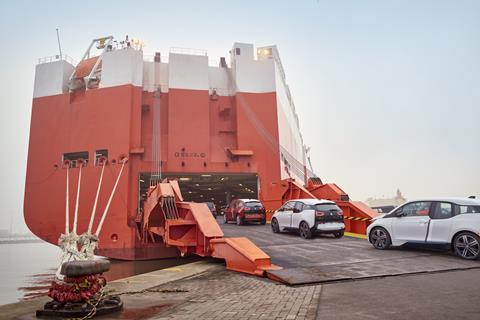 German OEM BMW claims it is the first carmaker to join the Getting to Zero Coalition, which has the goal of using zero-emission cargo vessels from 2030.
"Maritime transport is crucial for supplying the BMW Group's international manufacturing network and for the global distribution of vehicles," said senior vice-president of production network and supply chain management, Jürgen Maidl.
"We see the Getting to Zero Coalition of various governments, companies and other cross-sector stakeholders as a unique opportunity to continuously minimise carbon emissions in the maritime sector.
"We are delighted to be the first carmaker to join this coalition and thus lead the way towards more sustainability," he added.
Maritime transport currently accounts for 50% of BMW's transport chain CO2 emissions, while ships are responsible for around 3% of all greenhouse gas emissions, a trend that is rising.
As a Getting to Zero Coalition member, BMW will seek to achieve total elimination of harmful emissions by using carbon-free fuels and new propulsion systems as well as optimising energy efficiency.
The group says it is reducing emissions across all of its operations, by employing resource-friendly production methods in its plants worldwide, increasingly using renewable power and, for the future, is pushing electric mobility.
Looking back, the company says it has reduced consumption of resources and emissions per vehicle produced by more than 50% since 2006.
BMW joined the coalition headed by the Global Maritime Forum, Friends of Ocean Action and the World Economic Forum, ahead of the United Nations Climate Change Conference (COP 25) in Madrid, Spain, in the first half of December.