Domestic demand for vehicles in Brazil is helping to offset a decline in export sales because of the economic slowdown in neighbouring Argentina, which is Brazil's main automotive export market. However, according to research commissioned by the national association of automotive vehicle manufacturers in Brazil – Anfavea – it is significantly cheaper to import a vehicle from Mexico to Brazil than to make one there.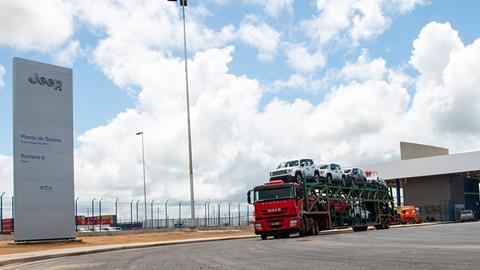 In the first five months of this year, finished vehicles exports from Brazil declined across two out of the three sectors monitored by Anfavea. The number of exported cars dropped by 42.2% from 314,100 units to 181,600 units, while truck exports fell by 58.3% from 11,900 units to 4,900 units.
Anfavea president Luiz Carlos Moraes blamed the downturn in exports on problems experienced by Argentina, which absorbs 60% of Brazil's automotive exports.
"Argentina remains a challenge for the industry," said Moraes. "The scenario is not positive for Argentina, and this directly affects our business here in Brazil."
Bucking the trend, buses and agricultural vehicles exports rose by 0.8%, from 5,100 units to 5,200 units.
However, because of demand in Brazil's home market, production in the same period rose by 5.3%, which held up Anfavea's earlier forecast of an 11% growth in sales (between January and May there was a 12.5% increase).
Car production rose 5.3% to 1.24m units, trucks went up 10.9% to 45,400 units, while buses and farm machinery dropped 4.2% to 20,700 units.
Revised forecast
Anfavea says the forecast for exports will have to be downgraded. It currently expects a 6.2% decline on the year to 590,000 units, although production is expected to increase by 9% to 3.14m units. In contrast, exports in 2018 amounted to 629,200 units, down 17.9% on the 766,000 reported for 2017, although slightly higher than the 517,000 exported in 2016.
"The crisis in Argentina (the main destination for exports) has been bigger than we imagined and the beginning of the recovery will not happen in the second half of the year, as we had expected, so we will revise the export projection downwards, obviously, this will also affect the projection for production," he said.
Moraes is nevertheless more upbeat about the home market, pointing out that large fleet operators are looking to renew their vehicles, which will be helped by competitive interest rates, while the agricultural sector is on course to register the second largest crop in its history, which should boost sales.
Cheaper in Mexico
Anfavea has also made public a study that it commissioned from consultancy PwC. This looked into cost comparisons of automotive production in Brazil and Mexico, and showed that it cost 18% more to build a car in Brazil than it did in Mexico. As well as cheaper labour, Mexico also benefits from more competitive material expenses and fewer bureaucratic and tax costs.
Furthermore, even with transport costs added into the equation, it is still cheaper to sell an imported Mexican car in Brazil than to produce it domestically.
Currently, Brazil is Mexico's sixth largest export market, behind the US, India, Japan, Germany and Thailand, so there is room for expansion.
Finished vehicles producers in Brazil have therefore warned of the threat of cheap imported cars from Mexico, given an end to the cap on bilateral trade between the two countries. In March, for example, Brazil and Mexico ended restrictions on light vehicle numbers that can move tariff-free between the two countries, which was seen as Mexico reacting to US threats to end the North American Free Trade Agreement (NAFTA).
Locally-based producers, such as GM, Volkswagen and Fiat Chrysler, all of whom have long benefited from high tariffs, are now using Anfavea as a platform to stress that they will struggle to compete against much lower production costs at plants in Mexico.
Commenting on the PwC report, Moraes, who in addition to his presidency of Anfavea is also a Mercedes-Benz executive, noted: "We have a very modern industry in Brazil. […] We cannot lose our current production volume, or our ability to generate jobs, or our ability to affect the country's GDP."
Moraes added that there were other obstacles to competitiveness, citing the retention of ICMS credits from state governments, but also stressed a need to break Brazil's dependence on the Argentinean export market.
"Brazil is already [in discussions] with Canada, South Korea, Europe, Africa and the Middle East," he said, emphasising that exports remain key to offset the volatility in the domestic market.
Nevertheless, even with a reduction in taxes, it will require a significant increase in production to bring down the overall price of finished vehicles to the customer. Only 60% of current capacity is being used.