China's anti-trust regulator has ordered Changan Ford Automobile, the US carmaker's 50:50 joint venture with Chongqing Changan Automobile, to pay a penalty of 162.8m yuan ($23.5m) for having restricted prices since 2013.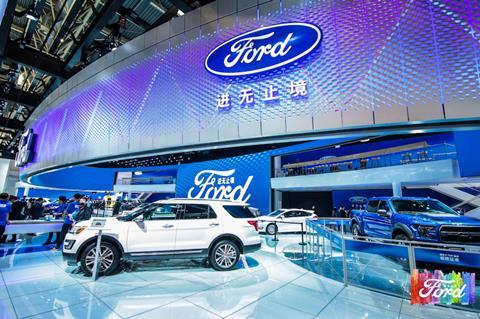 Changan Ford laid down minimum levels for its dealers in the company's home city, depriving them of the autonomy to set their own prices, the government said.
The penalty is the equivalent to 4% of the joint venture's annual sales in Chongqing, central China.
Ford responded by saying: "Changan Ford respects the decision taken by the State Administration for Market Regulation and has taken corrective action in its regional sales management, together with its dealers.
"As an ethical company, Ford is committed to complying with local laws and regulations wherever we do business."
In recent years Beijing has moved to shape the way companies in many industries set prices for their products, hoping that this will encourage Chinese consumers to spend with greater confidence, according to The New York Times. It quoted Cui Dongshu, secretary-general of the China Passenger Car Association, which represents manufacturers, as saying the action against Changan Ford was a normal step to promote competition and had nothing to do with conflicts with the US.
Other commentators see the anti-trust body's action in a different light.
Hong Kong-based South China Morning Post quoted Tian Maowei, a sales manager at Yiyou Auto Service, as saying: "It is not unusual that authorities uncovered wrongdoings by car companies to intervene into dealers' selling prices. But the timing of fining a US carmaker now seems to have a connection with the trade tensions between the two countries."
The New York Times reported business groups in China as saying the government tended to enforce rules and regulations with greater vigour during times of geopolitical tension, particularly when foreign companies were involved.
In 2016, GMs' joint venture with China's SAIC Motor Corp was fined 201m yuan for anti-trust violations when China-US relations were strained after then president-elect Donald Trump proposed tariffs on Chinese goods, questioned the One China policy regarding Taiwan and accused the country of stealing an American naval drone in international waters in the South China Sea, Bloomberg news service reported.
Looking ahead, Fu Bingfeng, executive vice-president of the China Association of Automobile Manufacturers (CAAM), said at a May 31 symposium on US-China trade relations: "If the US-China trade continues into the long term, it will accelerate the weakening of the US auto industry. I don't want the US-China trade friction to continue. I hope the problems will be solved," he was quoted as saying by the South China Morning Post.
Trade tensions aside, Ford has been reorganising its business in China to tackle falling sales in the world's largest car market. In the first quarter of this year, it reported selling 136,279 vehicles in China, a 35.8% decrease on the year-ago period.