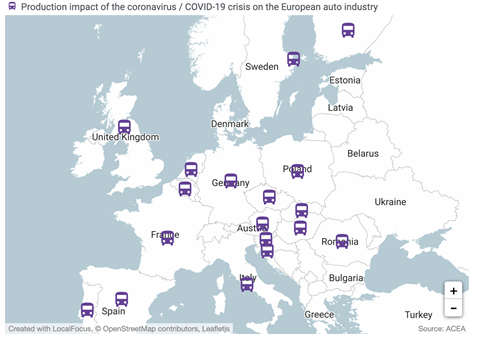 An interactive production map released by the European Automobile Manufacturers Association (ACEA) shows that EU-wide vehicle production losses because of the coronavirus epidemic have now reached over 2m units, with an average plant shutdown across the region of 26 days. The figure includes all passenger cars, vans, buses and coaches.
Unsurprisingly Europe's top three vehicle making nations have sustained the biggest losses. Germany has lost production of around 554,000 so far this year, while Spain has lost more than 379,000. France has lost 272,500 units of vehicle production.
ACEA also reported last week that demand across the EU for passenger cars in March fell by 55% because of the Covid-19 outbreak.
Lockdown measures were in effect in most EU markets from around the middle of the month and ACEA said the vast majority of European dealerships were closed. That resulted in a drop from 1.26m units registered in March 2019 to just 567,308 units this year.
Commercial vehicle (CV) demand during March fell by more than 47% across the EU, as measures to prevent the spread of the coronavirus lead to the closure of CV dealerships. The strongest drops were reported by Italy (-66%), Spain (-64%) and France (-63%).
The biggest hit was felt by the light commercial vehicle segment where demand fell by half compared to the same month in 2019. Registrations were just more than 83,141, down 49.8% from 165,455 vans in March last year.
EU demand for new heavy trucks also declined significantly, down -38%, marking the ninth consecutive month of decline.
ACEA has also released an interactive map showing the impact of the production losses on employment across Europe, with at least 1.1m jobs in automotive manufacturing (out of a total of 2.6m) being affected as a result of the shutdowns. The association said that this figure only referred to those people directly employed by OEMs and that the impact on the wider automotive supply chain was even more critical.