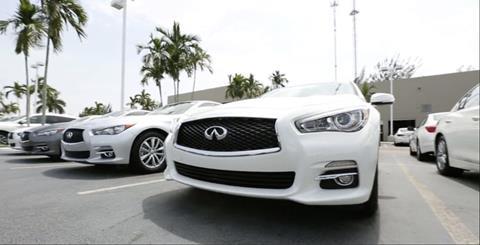 Vehicle sales around the world are being badly hit by the coronavirus pandemic, with end-users either prevented from visiting dealerships by closure or quarantine, or at best fearful of doing so. However, servicing vehicles remains a priority and carmakers and their affiliated dealers are embracing digital technology to ensure aftermarket services.
Digital technology is already transforming how vehicles and aftermarket parts are supplied and sold, as a new generation of buyers demand greater choice and convenience. Nissan, for instance, has been using a range of digital tools in the sales process and its luxury Infiniti brand uses tablet-based tools aimed at supporting interaction online between customer and dealer from when the vehicle is dropped for service to the time it is picked up (read more about ICAR-X).
A greater reliance on digital tools like this is expected over the coming months as the coronavirus pandemic disrupts normal servicing and buying habits.
Sales take a hit
According to the National Automotive Dealers Association (Nada) in the US, automotive sales in the country are set to decrease as much as 40% in March, compared to the same month last year, because of the coronavirus pandemic, setting a precedent for the next few months.
Dealer showrooms are now closing across the country, though authorities consider vehicle maintenance and repair an essential business, so many service bays remain open for aftermarket services.
Nada has joined with the Alliance for Automotive Innovation (AAI) and the Motor & Equipment Manufacturers Association (Mema) in calling for an economic stimulus package to address the impact of the escalating Covid-19 health crisis on the automotive sector, including the dealer network.
Online growth
Regardless of that, the sector is looking to build on a gradual increase in the take up of e-commerce for sales and services at the dealerships.
"The vast majority of dealerships have a robust online presence, but in the age of social distancing, those online tools have become more important than ever to customers," said Nada.
The association's dealer survey for the week of March 16 also revealed that many had seen an uptick in the pick-up and delivery of customer vehicles for servicing.
"To keep customers and employees safe, many dealerships are expanding their pickup and delivery for servicing," said Nada. "In fact, pickup and delivery for servicing is one of the most common adaptations dealerships are making.
According to J.D. Power, more than 1.8m vehicle leases will expire between March and July 2020 and owners will need to visit local dealerships to either extend their lease, purchase the vehicle or return it for a new one.
"Furthermore, in 2019, more than 46,800 light vehicles were sold each day," said Nada. "For those who don't currently own or lease a vehicle, coronavirus has limited their access to public transportation, leaving many without a mode of transportation. These Americans must be able to visit the country's 18,000 dealerships that can offer personal, safe transportation."
However, dealers are now providing more ways for customers to do that using digital tools and the requirement for social distancing currently being enforced around the globe during the coronavirus epidemic is likely to accelerate the trend.
"We are pushing online purchasing as well as offering concierge delivery or test drives," said one dealer quoted by Nada, while others are instituting marketing plans focused on shopping from home.
According to a study by consulting firm Frost & Sullivan "the coronavirus will provide impetus to digital retailing for cars". Frost & Sullivan estimates that almost 825,000 new vehicles were sold online globally in 2019, either through online financing or by making a part payment online. It estimates that by 2025, 6m vehicles will be sold through online platforms.
"Digital retail platform developers like Gforces, Roadster and Fastlane are helping dealerships digitise their sales platform, providing potential customers 24/7 access to purchasing vehicles online, and generating newer leads," said Frost & Sullivan.
While only 15% of transactions are currently made online, according to a survey of 540 dealers commissioned by Nada, it expects online sales to double by 2025, and the next few months could see a spike in those sorts of transactions.