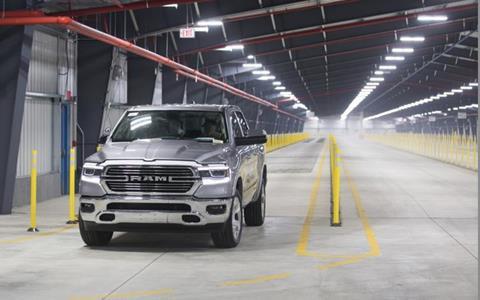 The Covid-19 pandemic has swept the world and closed car plants from east to west. Production has begun again in China, where the virus originated, and that recovery is also likely to sweep the globe in the coming months. However, like other industries, automotive relies on global supply chains, and logistics constraints such as border delays and safety checks are going to be more difficult to solve. This problem is compounded by the likely 'demand shock' on those supply chains as consumers return to the forecourts.
At the second of Ultima Media's new Livestream webinars held last week, editor-in-chief Christopher Ludwig was joined by Kristin Dziczek, vice-president of the US Center for Automotive Research (CAR), to talk about a range of issues facing the global automotive manufacturing and supply chain, and what it means for the US market.
While China gets back into the production swing, the US is very much in a containment phase but there are signs that, when quarantine measures are eventually relaxed, restrictions will remain on the sourcing of parts and their delivery, which could significantly hamper the restart. In a poll conducted as part of the Livestream event last week the majority of participants put that recovery at over a month, with 43% going so far as to forecast it taking eight weeks or longer.
Poll question: when production restarts, how long will it take your plant or supply chain to run smoothly again?
Up to 2 weeks 12%
Up to 4 weeks 27%
Up to 6 weeks 19%
Up to 8 weeks 21%
Longer than 8 weeks 22%
That delay is likely to be lengthened by the misalignment in supply and demand.
"Demand here in the US was down 40% in March and that tracks pretty closely with the demand fall off in China in February," said Dziczek. "What does that look like on the other side? Demand and supply have to be aligned and we've got some significant inventory out there, so even if demand comes back strongly how does that pull production?"
Regional shutdowns
Supplier disruption and the ability to deliver parts could mean shutdowns in different regions of the US (and the world), which could undermine the ability to even restart production on a low scale, said Dziczek.
In another poll conducted during the Livestream hour, 34% of subscribers said that component and inventory shortages from affected regions was the biggest risk to resuming production at scale, while 28% said that insolvency or supplier closures were the bigger threat.
Ludwig also pointed to the potential crisis of misalignment in terms of inventory and equipment. To deal with that, automotive manufacturers need to take on a more cross-functional approach with teams working across departments, and further, across industry.

"Manufacturers must certainly take a daily approach to tracking inventory and monitoring the supply base to determine constraints and consider alternatives," added Ludwig.
In terms of the logistics supporting manufacturing there is potential for OEMs and suppliers to collaborate with logistics providers on storing key supplies and products, as is indeed happening at the ports.
"If you have parts that have been built at origin but don't have a place to move to, it is about arranging either storage in those origin locations to avoid the export cost at the moment or arranging alternative storage and movement of the goods as close to the destination as possible," said Ludwig.
An on-going crisis
There have been previous supply chain crises that have hit the automotive industry, such as the Japanese earthquake and tsunami in March 2011, and the Evonik Industries explosion on March 31 in Germany, which led to a global shortage of the PA-12 resin used in a wide range of automotive parts. However, the difference between those incidents and Covid-19, according to Dziczek, is that they were one-time events and the current pandemic is "an ongoing, rolling crisis".
"How we recover from it, how we mitigate and figure out how to realign is an ongoing challenge for people in supply chain, logistics and production," she said. "We have to figure out how we're going to respond to different changes happening all over the world."
Given the unique circumstances of the current crisis, however, the industry is also depending on government support. The current situation is again different to the economic crash of 2009 because, while, big traditional US carmakers such as Ford, GM and FCA were crippled, suppliers with a diverse customer portfolio were still making parts for rival OEMs. Currently, everyone is affected, but for some bridging the gap is the difference between survival and closure. Dziczek pointed to loan guarantees offered by the US Federal government to larger firms and the $4.5 trillion worth of lending, though that is across all industries.
What is also important to remember is that in the US 78% of companies categorised as motor vehicle parts suppliers are outfits with fewer than 100 employees. That is why the US Treasury is looking to augment the fund and offer loans to smaller automotive suppliers, but there are inevitably going to be job losses and loans that need to be repaid, and the industry is going to have to be more efficient in the use of capital in the coming years.
Watch last week's webinar in full
The next Livestream hour takes place on Wednesday April 15th at 14.30 BST/15.30 CET