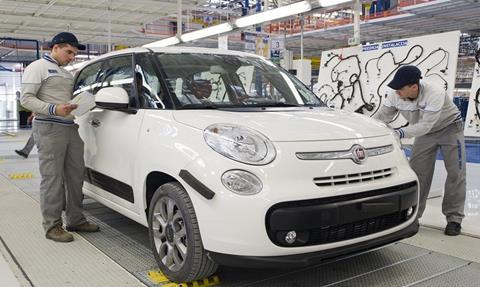 Fiat Chrysler Automobiles (FCA) has confirmed that it has had to halt production at its Kragujevac plant in Serbia because of a shortage of unnamed components supplied from China, which are thought to be electrical. It is the first carmaker based in Europe to halt operations because of the supply chain problems caused by the coronavirus outbreak.
"We are in the process of securing future supply of those affected parts and production will be restarted later this month," said FCA in a statement. "We do not expect this change in scheduling to impact the total production forecasted for the month."
FCA makes the Fiat 500L at the Kragujevac plant, with annual output set at around 85,000 units. The company is expected to start making a small SUV at the plant this year.
While it is the first carmaker in Europe to actually halt production, there have been other incidents outside China. As reported last week, other factories in Asia have been affected, including Hyundai's plant in Ulsan, which was forced to close last week because of a shortage of wiring harnesses. The joint venture Renault Samsung plant in Busan, South Korea, was also stopped for four days. GM Korea also halted production and Nissan had to stop assembly temporarily at its Japanese plant in Kyushu.
Fighting delays
Meanwhile, in China, some carmakers are once again extending shutdowns while others begin to restart assembly.
Volkswagen said it will extend shutdowns at the plants it runs with Chinse carmaker SAIC (SAIC Volkswagen) for a third week because of parts supply problems and restrictions on the movement of workers. Production is now planned to resume at the three plants around Shanghai and the one in Nanjing on February 24.
"We are working hard on getting back to our normal production schedule, while facing delays due to national supply chain and logistics challenges as well as limited travel options for production employees," the carmaker reiterated in a statement on February 18. "Production feasibility at each plant is checked individually, resulting in different starting times."
However, it also said it is gradually restarting production this week at FAW-Volkswagen joint venture plants in Changchun, Chengdu and Dalian.
"FAW-Volkswagen has started production in some of its plants and expects to be operating all of them again in the coming days," said the carmaker in the statement. "When production resumes at each plant, a safe and healthy environment will be ensured through preventative measures, such as regular disinfection of working areas, distribution of masks to employees and temperature screening at the entrance of work facilities."
Overall, VW has around 20 production locations for vehicle assembly, engine and parts manufacturing in China. VW is planning to provide more details at its annual press conference in Wolfsburg next month.
Japanese carmakers, Toyota, Nissan, Honda and Mazda have all said they have restarted some production in China this week.
Toyota has restarted production at four plants in Changchun and Guangzhou. It plans to restart its plant in Chengdu on Monday next week (February 24).
Mazda has also restarted production at its Nanjing plant but at reduced output.
Restart of assembly in China will compound air freight capacity crisis
1

2

3

4

5

6

7

Currently reading

Coronavirus hits FCA in Europe, but signs of restart for OEMs in China

8

9