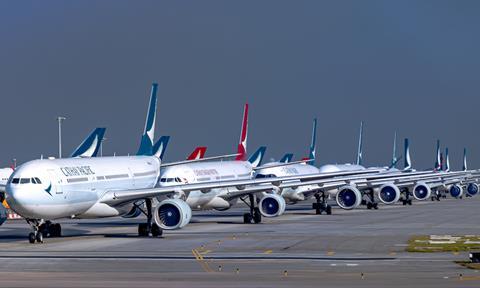 While European vehicle makers appear resilient in the face of supply chain disruption caused by the coronavirus, there are a number of factors coming into play that could see production affected over the coming weeks.
They include an intensified fight for air freight capacity that remains in short supply as parts makers look to recommence production in the Hubei province of China. There is also the fact that major tier suppliers in industrialised northern Italy are now isolated by quarantine measures put in place to control the spread of the virus. Added to this is the threat that supply of key electronic components from Japan could be disrupted if measures are taken there to quarantine people and control supply routes.
Production in China is gradually returning, with a growing number of key assembly and tier supplier plants having restarted production over the last three weeks. In the Hubei province, which is the centre of automotive manufacturing but also the centre of the coronavirus outbreak, operations are now not expected to recommence until at least the end of April, though this remains subject to local authority recommendation; most carmakers will only say cautiously that they are continuing to monitor the situation.
The delay in production in Hubei could go some way to alleviate the struggle underway to secure adequate capacity for outbound parts shipments. There remains a backlog of material to be shipped from the ports and full airfreight services are not expected to return to normal until the end of the March. For the next month European carmakers well be relying almost entirely on airfreight to move urgently needed parts sourced in China to factories in Europe, which are now running short on supply, though emergency logistics providers have been working hard to expedite critical shipments throughout the crisis.
European shortfall
Compounding the supply chain problem for European carmakers is the fact that Italy is now subject to quarantine, with plants closed and parts stock unable to move.
Electronic parts supplier MTA, which supplies a number of European carmakers, including FCA and Renault, was forced to close its Codogno production plant in compliance with Italian health regulations. MTA said in a statement that the closure of its plant had impacted production at Fiat Chrysler Automobile (FCA) plants in Italy – Mirafiori, Cassino, Melfi and Sevel. Beyond March 2 that was threatening other carmakers in Europe, including BMW, Peugeot and Renault, though MTA reported this week it had managed to restart production, albeit at a lower capacity.
The threat of a sustained disruption to suppliers in Europe has taken precedence as a threat to carmakers because less stock from European suppliers is held at the assembly locations. That is down to the relative vicinity and automotive's just-in-time production principles.
Most carmakers report that production is currently continuing unaffected and supply has not been compromised. Renault said it could continue to make cars for a 14-day quarantine period but confirmed that its purchasing and supply chain departments were looking at other sources in the event that the shutdown in the Lombardy region of Italy is extended.
Groupe PSA said that it had put in place a permanent working group covering R&D, purchasing, manufacturing and logistics. The company said the working group was holding daily discussions to evaluate the situation and assess whether adjustments were needed, including to logistics.
"As of today, we stay prudent, but even with development of the Covid-19 in Italy, affecting Italian suppliers such as MTA, production is not projected to be significantly impacted in Europe in the near future," said the spokesperson.
Similarly, Toyota said it had put in place a cross-functional team that was monitoring the situation "day-by-day and part-by-part".
"This involves working very closely with our suppliers to grasp production condition at tier one and beyond, and to confirm supply by normal logistics or alternative routes in some circumstances," a spokesperson told Automotive Logistics.
Toyota said it had some suppliers in Italy but none were in the zone currently affected by the quarantine and it was not experiencing parts supply issues, though it was keeping a close eye on the situation should there be an expansion of control in the region.
"It is difficult to predict how the coronavirus situation will develop in Europe. At this point (March 4) all plants are operating normally," said the spokesperson.
"As far as impact to European vehicle production, vehicle supply from Japan and service parts supply, at this time we do not foresee any short-term disruption and we should be able to operate our manufacturing plants normally during the month of March – and we are monitoring the situation beyond that."
Production adjustments are now being reported in Japan. Nissan said it was planning or had already carried out temporary production adjustments at certain plants there, though would not go into detail. Honda has also cut production at two plants in Saitama because of parts shortages caused by the coronavirus disruption.
Critical logistics
Some European carmakers are benefitting from the fact that additional parts stocks were built up as a precaution ahead of several postponed Brexit deadlines but the maintenance of production in Europe will rely heavily on emergency logistics providers over the next weeks, if it is not already.
Renault said that it was looking at shipping parts from Japan by air amongst other solutions. The carmaker has has stock in Lombardy and is trying to get parts out from the supplier base to cover production next week.
Other OEMs are concerned that if certain areas of Japan are quarantined then there will be a hard stop on the supply of key electronic parts. Meanwhile, parts supplied from Italy are likely to be made on common platforms, which at least leaves carmakers the chance of finding alternative supplies elsewhere in Europe or further afield globally, such as in North America. It is up to their emergency logistics providers to then get the parts to the plants in Europe to avoid costly production downtime. That includes getting involved in the supply chain balancing priorities of the carmakers.
Carmakers are looking at which cars are the most profitable and supplying the parts that are available from the common platforms to those models as a manufacturing priority. Emergency logistics providers are helping in that process.
"We have done that for forward parts supply from China where OEMs have five or six plants in Europe that are all using a common part," said Graham Little, managing director of Evolution Time Critical. "We have flown the parts as one consignment into a major European hub, broken it down into individual boxes and delivered it according to the amount assigned to each plant."
One of the other challenges that Evolution Time Critical has met is overcoming the impact on communication in China by strict quarantines on employees. The company has done that by exploiting social media networks in the country.
"One of the challenges that we have adapted to is that a lot of our suppliers in China are working from home," said Little. "We have had to adapt to that and use different methods of communication than we do when they are traditionally in the office." That is something that has given the company a competitive advantage through faster response times, he added.
Footfall at the dealers
In terms of the movement of finished vehicles within Europe, delivery routes remain unaffected on the whole, according to carmakers, but restrictions on the movement of people in Italy are being felt at the dealerships.
"In Italy, naturally, our retailers are reporting declines in walk-in traffic at dealerships and the postponement of service and sales appointments, especially in the seven regions affected by public health measures," said Toyota. "It is too soon to determine if this will have a lasting impact on sales on an annual basis and right now we are focused on prioritising public safety and the safety of our retailers, employees and customers."
More generally in Europe the company said that Toyota and Lexus posted an increase in sales of 1.6% in January 2020 compared to the same month last year.
Read more about the global impact of the coronavirus on air freight shipping and the automotive supply chain in our interview with Felix Altmann, global key account manager at emergency logistics. provider time:matters, at this year's Automotive Logistics Mexico conference
Restart of assembly in China will compound air freight capacity crisis
1

2

3

4

5

6

Currently reading

Coronavirus latest: Europe puts a brave face on supply chain problems in China and Italy

7

8

9