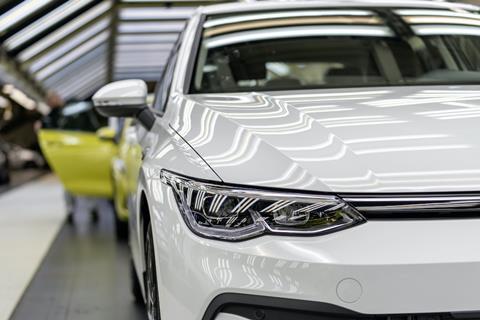 Temporary car plant closures are spreading across Europe this week as the escalation of coronavirus in the region disrupts the automotive supply chain and hits sales.
Fiat Chrysler Automobiles (FCA) has widened its stoppage plan and carmakers including BMW, Ford, Groupe PSA, Renault-Nissan-Mitsubishi Alliance and Volkswagen Group have announced similar action; more are expected to follow.
Following last week's announcement that FCA was temporarily closing Italian plants in Pomigliano d'Arco, Melfi, Atessa and Cassino, to minimise the risk of contagion among workers, the carmaker has this week said that it will extend the closures to include Modena, Mirafiori and Grugliasco in Italy, as well as Tychy in Poland and Kragujevac in Serbia (for the second time).
The temporary closures will run until March 27 and FCA said the move would mean it could "effectively respond to the interruption in market demand by ensuring the optimisation of supply".
Tier one parts supplier Brembo is also now closing 22 facilities in the Italian regions of Bergamo and Brescia, which are at the centre of the coronavirus outbreak in Italy. The plants, which are based in Stezzano, Curno, Mapello and Sellero, shut on March 16 and will be closed until at least March 22.
Groupe PSA, meanwhile, has announced closures beginning this week (March 16) until March 27 across 15 of its European plants because of disruption to the supply chain and a sudden decline in the market for vehicles (see table below).
Groupe PSA plant closures in Europe
· March 16: Mulhouse (France), Madrid (Spain)
· March 17: Poissy, Rennes, Sochaux (France), Zaragoza (Spain), Eisenach, Rüsselsheim (Germany), Ellesmere Port (UK), Gliwice (Poland)
· March 18: Hordain (France), Vigo (Spain), Mangualde (Portugal)
· March 19: Luton (UK), Trnava (Slovakia)
Sales and supply uncertainty
Volkswagen Group said that the "significant deterioration in the sales situation and the emerging uncertainty in the supply of parts" meant there would be disruption to production across Europe starting this week. Production at its Spanish plants in Barcelona, Setubal in Portugal, Bratislava in Slovakia and the Lamborghini and Ducati plants in Italy has been interrupted, and there are plans for two-week closures at other plants in Europe to be announced.
"The spread of coronavirus is currently impacting the global economy," said Frank Witter, member of the Group Board of Management responsible for Finance and IT. "It is uncertain how severely or for how long this will also affect the Volkswagen Group. Currently, it is almost impossible to make a reliable forecast. We are making full use of all measures in task force mode to support our employees and their families and to stabilise our business."
With regard to VW Group's Spanish subsidiary, Seat, it has announced an impact on production at its Martorell plant because of "logistical and production difficulties" caused by Covid-19, which included parts supply from its adjacent component plant.
Fellow German carmaker BMW has announced it will close production at two plants in the UK for four weeks, from March 23 until April 17. The company makes the Mini at its plant near Oxford, and supplies body components for that assembly from its plant in Swindon. Plans for the Hams Hall engine plant and the Rolls Royce plant in Goodwood have yet to be announced.
BMW said that production at its German plants was currently unaffected.
Supply chain disruption is also affecting production at Renault-Nissan-Mitsubishi (RNM) Alliance plants in Spain. Nissan's plants in Barcelona were forced to halt production last Friday and on Monday this week because of a parts shortage. Renault, meanwhile, has extended the shutdown of its two plants in Valladolid and Palencia to include all 12 of its factories in France.
"From the end of the day on Monday, March 16, Groupe Renault will suspend all production activities on French industrial sites in order to protect its employees in the context of the Covid-19 pandemic and in compliance with the measures taken by the French government," said the company in a statement. It went on to say that production would be restarted "when conditions permitted" and it would implement appropriate measures to respond to commercial demand.
Daimler Group said on March 18 it would be suspend the majority of its production in Europe, including car, van and commercial vehicle plants, for two weeks, beginning this week.
"Connected to this is an assessment of global supply chains, which currently cannot be maintained to their full extent," said the carmaker in a statement, adding that it could extend the closures depending on further developments.
Pandemic impact
Ford, meanwhile, is suspending vehicle and engine production across Europe beginning March 19, which is "expected to last for a number of weeks depending on [the] pandemic situation, national restrictions, supplier constraints and dealer stock requirements" said the company in a statement.
Production at the Almussafes plant outside Valencia in Spain has already stopped (as of March 16) following the discovery that three of its staff had contracted the coronavirus. Cologne and Saarlouis in Germany, and the Craiova facility in Romania, will also temporarily halt production from Thursday.
The company said that component supplies to its manufacturing sites in Europe had been increasingly interrupted. Vehicle sales have also declined with dealerships required to temporarily close their sales operations in some countries, said Ford. However, dealerships are continuing to provide essential maintenance and service across the continent.
"While the impact of coronavirus at our facilities so far has been limited, thankfully, its effects on our employees, dealers, suppliers and customers, as well as European society as a whole, is unprecedented," said Stuart Rowley, president, Ford of Europe. "Due to the dramatic impact this ongoing crisis is having on the European market and the supplier industry – together with the recent actions by countries to restrict all but essential travel and personal contact – we are temporarily halting production at our main continental Europe manufacturing sites."
Ford said that it hoped the suspensions would only be for a short period but recognised that the exact timing depended on a number of factors, including the spread of the coronavirus, national government and EU restrictions on movement, including across borders, as well as the supplier industry's ability to supply components.
"It is at difficult times like these when we must stand united and put people first," added Rowley. "We at Ford will play our part in the weeks ahead to help get through this crisis, reduce its spread and alleviate its effects wherever we can."
Toyota is also carrying out a "progressive suspension" of facility closures, until further notice, following the closure of Toyota Motor Manufacturing France (TMMF) earlier this week (see table below).
"With the acceleration of the coronavirus in various European countries or regions and the associated lockdown measures taken by various national, and regional authorities, an uncertain short-term sales outlook and difficulties in logistics and supply chains are being felt and will increase in the next weeks," said the carmaker in a statement.
Toyota plant closures in Europe
Already suspended Toyota Motor Manufacturing France (TMMF) Valenciennes
18 March Toyota Motor Manufacturing UK (TMUK) in Burnaston and Deeside
18 March Toyota Motor Manufacturing Poland (TMMP) in Walbrzych and
Jelcz-Laskowice
19 March Toyota Peugeot Citroen Automobiles (TPCA) in Kolin, Czech Republic
21 March Toyota Motor Manufacturing Turkey (TMMT) in Sakarya
Market analyst, Fitch Ratings, has said it expects car sales in Europe to plummet in the same way they did in China at the outbreak of the coronavirus pandemic earlier this year, when new vehicle sales fell by about 80%.
"This will intensify existing sales pressures due to the sector downturn that started before the outbreak," said the company in a statement. "We believe that emergency measures and lockdown decisions in several countries will lead to a sharp decline in dealership visits and widespread postponements of new vehicle purchases."
However, in its latest report Fitch Ratings also says that unlike other sectors that will not be able to recoup lost revenue, it expected the majority of lost vehicle sales to be postponed, rather than cancelled, until the outbreak is contained. Fitch did admit, however, that the extent of the sales decline is hard to predict and sector recovery could be slow if the coronavirus outbreak has a lasting effect on economic growth.