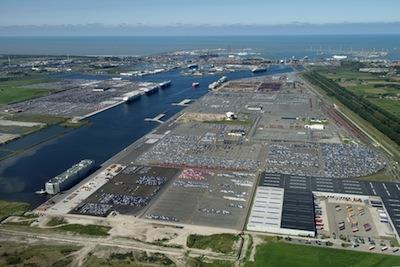 Europe's biggest vehicle handling port in Zeebrugge, Belgium, is taking emergency measures to deal with congestion at its ro-ro terminals caused by the coronavirus pandemic.
The port authority said that several terminals have been inundated with inbound volumes of finished vehicles and trailers over the past two weeks. Since being shipped the impact of the coronavirus has quickly shut down supply chains meaning the vehicles and trailers of goods have nowhere to go.
Vehicle sales in Europe dropped by more than 50 per cent in March and dealerships are closed, meaning the outbound supply chain has largely come to a standstill. As a consequence, the build-up of volumes has caused saturation of the existing terminal space at Zeebrugge.
In response the port authority has held meetings with resident companies (of which there are around 200) to analyse supply and demand, and evaluate the available options to maximise capacity. Terminal operators at Zeebrugge include C.Ro Ports, ICO, Toyota and WW Solutions.
According to the port authority all parties have agreed to make an extra effort to maximise capacity on their own grounds, with a further two options available: for finished vehicles and other automotive cargo the authority is allocating additional space based on separate agreements with the terminal operators and the payment of what is described as "a small fee".
Meanwhile, trailers can be stored at five different locations in the port free of charge, by a signed agreement with the port authority. These locations are all existing parking facilities within the port.
The port authority said it would evaluate the needs of the terminals on a daily basis and adjust the level of support accordingly.
"It is important that a port authority can offer creative solutions to port clients in these difficult times," said Rik Goetinck, CEO of the Port of Zeebrugge. "Working together is essential, since it is all the same purpose we aspire: keeping the operations as smooth as possible in our port, even in these circumstances."
The situation is unlikely to change any time soon. According to latest research from Ultima Media's Automotive business intelligence unit, Europe's vehicle sector is going to be particularly badly hit by the coronavirus disruption. In its Global Vehicle Demand Forecast 2020-2030, prolonged lockdowns and restrictions are predicted to have a significant impact on European automotive demand, which is likely to be felt for much of the decade. In its worst-case scenario, European vehicle sales could fall by as much as 30% compared to 2019.
As has been the case in recent years, finding adequate space at European ports is a continual challenge and nowhere more so than Zeebrugge, given its growth in volumes through 2019. It was closing on the 3m mark for the number of finished vehicles handled through its terminals when it reached the end of 2019, up 4.6% on the previous year. That contributed to a 14.2% growth in overall freight volumes for the year at the port. Zeebrugge transhipped 45.8m tons of goods in 2019.
To find additional capacity Zeebrugge has been working on a number of infrastructure projects as well as developing digital tools to speed processing, but the sudden impact on the supply chain of the coronavirus this year has resulted in the necessity for emergency measures.
Read more about activity at the port of Zeebrugge in our forthcoming digital supplement Automotive Logistics Digital: European Finished Vehicle Ports review