There are opportunities to be had for automotive companies that survive the coronavirus pandemic. However, those companies need to take decisive action on restarting, reshaping and reimagining a supply chain that will change quite significantly and is likely to be characterised by greater localisation.
According to Sunjay Kapur, chairman of Indian starter motor manufacturer Sona Comstar and vice-president of the Automotive Component Manufacturers Association of India (ACMA), uncertainty makes it easier to take that sort of decisive action.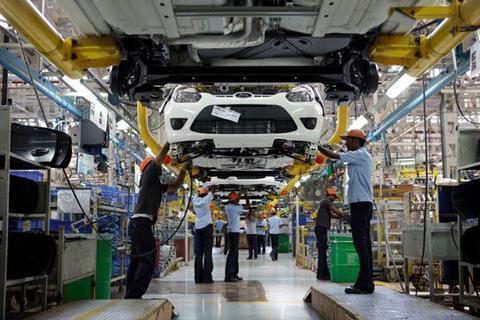 During the recent Livestream event from Ultima Media focused on the Indian automotive supply chain, Kapur pointed out that central to the success of companies and the sector as a whole was security in the supply of labour, cashflow and raw materials. The realignment of supply chains, which is already taking place, provided opportunities for Indian companies as long as those three things were secure.
"We've already seen… announcements made by Japan to move their supply chain out of China and we feel that this could be an opportunity for India," said Kapur. 
Earlier this month Japan said it had earmarked $2.2 billion of its economic stimulus package to help its manufacturers shift production out of China because of the disruption caused to supply chains by the coronavirus.
"We're also looking at supply in terms of localisation," continued Kapur. "I believe there will be a huge drive to localise the supply chain just to de-risk from events like [the coronavirus] that happen globally."
Labour concerns
In terms of labour, carmakers and parts suppliers need to tread carefully as staff return to work. Physical distancing is now a standard operating procedure, which presents the sector with big challenges. There are also concerns within ACMA and the Confederation of Indian Industries that should infection reoccur when operations recommence the government could mandate another shutdown rather than just quarantine affected workers.
The other big challenge, according to Kumar, is retrieving migrant labourers, who have returned home during the crisis.
"Bringing [migrant] labour back is definitely going to delay [the restart]," said Kumar. "We are more in the four-to-six weeks range to bring the supply chain back to anything that is normal, and not even to full capacity. I also feel that when we restart we're going to have to start with a much smaller labour force."
A third issue affecting the recruitment of labour is the diminishing revenue available to pay workers.
"The government is mandated for us to pay for all the workers, both permanent and contractual, and to pay for the entire period of the lockdown," said Vinnie Mehta, director general of ACMA. "That is somewhat stressful for a whole lot of companies because we are literally in a zero-revenue regime, so that is a huge challenge." 
Watch more Livestream coronavirus discussions
Kapur said that the ACMA had been in close collaboration with carmakers since the coronavirus became a pandemic and knocked out car manufacturing. 
"We've seen the component industry really come together as one body through ACMA and we've noticed that OEMs are very encouraging in terms of localisation," he said.
ACMA represents 800 component suppliers in India. Its stated aim is to develop a globally competitive automotive component sector and strengthen its role in national economic development, as well as promote business through international alliances.
ACMA members have combined sales of $57 billion, and export $16 billion worth of parts, which together contributes 2.23% of the country's GDP. The aftermarket parts businesses alone is worth $10.1 billion and ACMA companies employ close to 5m people, directly and indirectly, in the automotive component industry.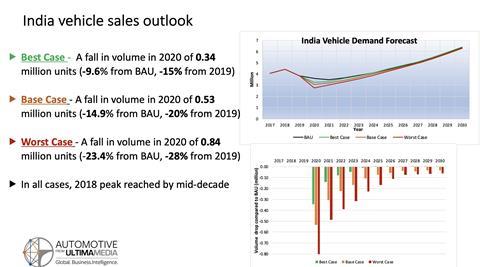 Vikrampati Singhania, managing director at parts supplier JK Fenner, also a member of ACMA, took up the point about collaboration across the industry during the pandemic but he recognised the challenges.
"While [the OEMs] are doing a lot of work hand-in-hand with the supplier base to try and examine the entire chain end-to-end, as we go along I believe there could be challenges that mean we may not be all able to synchronise supplies in one go," said Singhania. "From an OEM perspective, until they have all the parts in one place they cannot produce a car."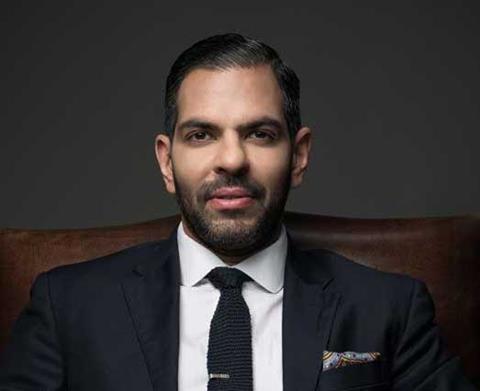 Singhania saw that the recovery in the Indian automotive supply chain would not be smooth and would have more of a 'jagged edge' given how many moving parts there were in the supply chain.
Staying solvent
While attendees to the Livestream event differed in their view of how long it would take the supply chain to recover, it was clear that the longer it took, the more damage it would do to the smaller suppliers.
"One of the biggest challenges that is facing the industry today is that of working capital and liquidity," said Mehta. "The Central Bank of India, which is the reserve bank of India, has taken a lot of measures to infuse liquidity into the system. Unfortunately, the banks are not passing it on to the industry. So definitely for quite a few of the companies, especially small and medium enterprises (SME) and the tier 2 and tier 3 suppliers, they are literally facing the challenge of staying solvent."
The automotive industry in India has been going through a rougher time than most according to Kapur. A tough sales environment and new regulations were already taking their toll. Reiterating Mehta's point he said the country-wide shutdowns caused by the coronavirus now meant that most companies are close to zero revenue. However, while Kapur recognised that was a challenging situation, he also saw the opportunities that jeopardy and change brought with them.
"I think the next three months are about how we survive the downturn and the crisis we are in," he said, adding that there were historical precedents that had transformed the supply chain, from the introduction of women to manufacturing during the Second World War to the impact of SARS on the development of digital marketplaces and e-commerce giants such as Alibaba.
Kumar also pointed out that a lot of companies in India had made their business more robust in the 12 years since the last downturn and there had been fewer bankruptcies during the coronavirus crisis than in 2008. It was only those that were over-leveraged that were faced with danger, he said.
However, K V Praveen, director of purchasing, Asia Pacific and BCC, at components supplier Meritor, said that if the Indian automotive sector did not recover within a four-to-six week timeframe there would be major disruption to the supply chain not just in India, but globally.
"I think given the supply chain design, especially from an export standpoint between India and China together, even if it is going to be a four-week recovery it is very tough one to manage," said Praveen. "If we look at beyond six to eight weeks, it's definitely going to have a major impact on the global supply chain platform too."
Jasjit Sethi, CEO of TCI Supply Chain Solutions said that there were currently only about 9% of carmaker plants in India operational and parts dispatches were 20% of the norm.
"These are very baby steps because lot of work has to be done in the plant in terms of physical distancing and demands like that, so getting it back to full-steam will take a little bit of time," he said. 
Ultimately for Kapur, while there is going to be some necessary restructuring of manufacturing and supply chains, the current crisis presents automotive players determined to succeed with the an ultimatum for going forward.
The next Livestream event takes place on May 6 and will cover the areas that suppliers need to consider as the automotive industry stirs back into action, including supply chain and logistics processes, sourcing, digital tools and collaboration