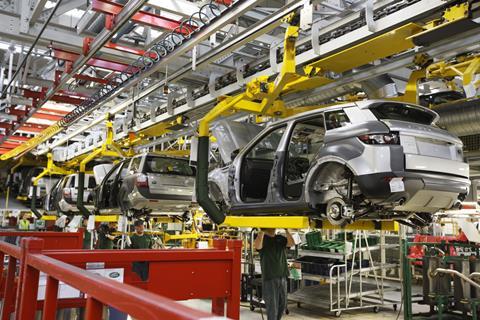 The UK new car market declined by just over 44% in March this year, according to figures published last month by the Society of Motor Manufacturers and Traders (SMMT). Some 203,370 fewer cars were registered than in March 2019, as showrooms closed in line with government advice to contain the spread of the coronavirus. It marked a steeper fall than during the 2009 financial crisis and the worst March since the late 1990s, the trade body said.
With lockdowns taking place in many European countries earlier than the UK, even steeper falls have been reported elsewhere, with Italy down -85%, France -72% and Spain down -69% in March.
"With the country locked down in crisis mode for a large part of March, this decline will come as no surprise," said Mike Hawes, chief executive, SMMT. "We should not, however, draw long term conclusions from these figures other than this being a stark realisation of what happens when economies grind to a halt."
The SMMT also released figures that showed UK car production fell 37.6% in March, with just 78,767 vehicles leaving British factory gates in the month, some 47,428 fewer than the previous year.
Commenting on the data, Andrew Burn, partner and head of automotive at KPMG UK, said: "Although the numbers show that it was a challenging month for the sector, lockdown in the UK did not start until 23 March, so they really only reflect a three week period. Whilst the figures show the gravity of the impact of Covid-19, they are likely to be substantially better than the results we will see for April's production levels when those figures are released."
Decline in online searches
Highlighting the decline in the UK new car market, the number of people searching for cars online in has plummeted by an average of 47% over the course of Q1 2020, according to a report from UK car comparison site LeaseFetcher.
Looking at the online interest via Google Trends to compare developments in online demand in Q1 2020, including aggregate searches related to carmakers, the report found that Skoda, Kia and Hyundai had taken the hardest hit in terms of online demand (see box).
Online demand for OEMs in Q1 2020
Skoda: -68.72%
Kia: -66.67%
Hyundai: -63.75%
Interest in German carmakers Audi, Mercedes and BMW dropped between 44% and 50%, but least affected by the global pandemic in terms of online demand was Porsche (-22%) and Italian Alfa Romeo (-18.7%).
How long the UK market will remain stalled is uncertain but it will reopen and the products will be there, stated SMMT's Hawes. "In the meantime, we will continue to work with government to do all we can to ensure the thousands of people employed in this sector are ready for work and Britain gets back on the move."
For more information on the on the impact of the coronavirus crisis on global vehicle demand across major regions, read the 2020-2030 forecast from Automotive by Ultima Media