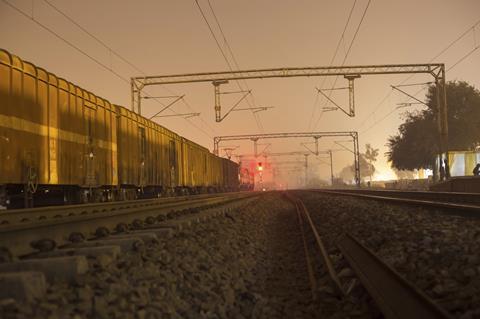 Gefco has revealed this week that it moved 500 tons of automotive spare parts from China to France in the midst of the coronavirus lockdown on a dedicated blocktrain out of Wuhan.
The logistics provider worked with Chinese rail operator DBO and the LDCT Rail Terminal in Dourges to move 41 sealed containers the 10,000km from Wuhan to the Lille Dourges Container Terminal. The journey took 19 days and passed through Kazakhstan, Russia, Belarus, Poland and Germany, arriving in France on April 21.
"It was a one-off shipment because of pick demands during the coronavirus crisis," said a spokesperson for Gefco. "Our regular weekly volumes are now loaded on various public trains to Europe, this way we can enjoy multiple departures per week and different terminals of arrival."
Gefco would not reveal which customer the parts were for but it has previously used a blocktrain service from China for the delivery of containerised parts through the Dourges Terminal to Française de Mécanique, a Groupe PSA subsidiary in Douvrain, in the north of France. Gefco was formerly a subsidiary of Groupe PSA.
Given the spread of the coronavirus from east to west at the time, Gefco provided contactless procedures at terminals as part of strict safety procedures. It said that by moving the parts by rail over three weeks in sealed containers, it ensured there was no risk of the virus being carried.
Gefco also handled the first and last mile shipments for road and rail in China and France, as well as the loading of the containers at supplier plants in Shanghai and Chengdu. Additionally, the company handled custom procedures along the route and provided warehousing services in France. More widely Gefco said it had been providing local storage for carmakers forced to close plants, ensuring fast access for them when production resumed.
"In this challenging time, our rail solution is demonstrating its value as a sustainable, cost-effective, time-efficient and reliable proposition," said Alice Defranoux, global rail manager at Gefco. "We're pleased to see restrictions begin to lift as countries work towards recovery. I am very proud to be part of the Gefco team where colleagues continue to show agility and excellence for our customers, working with them to be fully engaged and united to go the extra mile."
The company said the volume of containerised goods on eastbound rail services was growing and it was finding capacity for sending finished vehicles back to China on the return leg of the journey, though currently this was mainly from Germany.