The disruption to the Slovakian automotive industry caused by the Covid-19 pandemic was short-term and has already subsided, according to Alexander Matusek, president of the Slovak Automotive Industry Association. However, for the future stability of the sector Matusek said there needs to be greater government support in stimulating sales.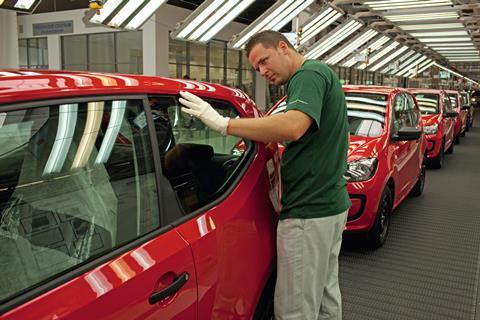 "In the initial period [of Covid-19], the stores were closed, the market interest slumped, countries were closed [for quarantine], and components deliveries were disrupted," Matusek told Automotive Logistics. "The vehicle manufacturers and their suppliers in Slovakia were forced to limit or even stop production. It was a period of three to eight weeks depending on the factory."
Currently, most factories are about to resume or have already resumed operations at full capacity. Further developments will depend on the state of demand.
In the logistics industry, smaller companies were hit more heavily than the bigger operators.
"The situation in the logistics system has gradually stabilised and we do not currently see any major problems," Matusek continued. "It is also normalising for smaller transport companies, which had the biggest problems because of the production halts. However, thanks to the government's measures, such as support for job retention and the postponement of loan and lease repayments, these companies are also gradually managing to overcome the present challenges."
"We do not currently record any reasons for supply disruptions," he added.
Slovakia ranks highly in terms of per capita vehicle production, according to the Slovak Automotive Association. For instance, in 2018, this stood at 200 vehicles per 1,000 inhabitants. A further increase in capacity utilisation at the new Jaguar Land Rover (JLR) plant in the country, at Nitra, was expected to push up total vehicle production in Slovakia from slightly over 1m in 2018 to 1.35m in 2020. However, even as the industry is bouncing back, it is clear that the forecast is not destined to come true.
"We assume that the situation will gradually stabilize and the second wave of the pandemic will not have as fatal consequences as the first," said Matusek. "However, the production losses seen in the first quarter of 2020 will not be fully reimbursed, so we expect a 20% decline in production compared to 2019, which was the record-breaking year for [the automotive industry in] Slovakia," Matusek said.
Market participants believe the government should throw a helping hand to the automotive industry.
"The Slovak government can and must create an environment for the industry's smooth operation even in such crises," said Matusek. "One such useful measure is to support the maintenance of jobs in times of demand shortage, [otherwise called] Kurzarbeit."
Kurzarbeit is a state-regulated system of work-sharing unemployment insurance in which civilian employees agree to (or are forced to) accept a reduction in working time and pay.
"We would welcome even greater involvement by Slovakia in stimulating the domestic vehicle sales," Matusek said. "Our association is in negotiations with government representatives discussing launching a support scheme for the vehicle fleet's renewal, focusing on vehicles with alternative propulsion."