Tesla has delayed plans to return production at its plant in Shanghai, China to full capacity by at least a week, according to the Reuters news agency.
The Shanghai plant was due to ramp production back up to 2,600 cars a day from May 16 but it is now holding back assembly to one shift, meaning that daily output will be equal to around 1,200 units a day until May 23. The plant makes the Model 3 and Model Y.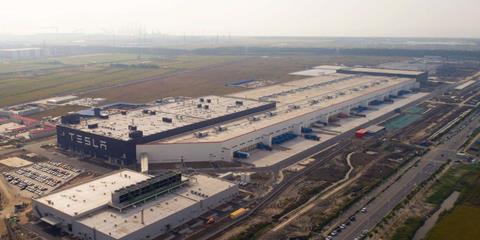 The carmaker has been hit by parts shortages caused by the Covid lockdowns, and the disruption to supplier production and freight movements, including those through the port of Shanghai. Sales are also down dramatically across the board thanks to restrictions on the movement of people and the closure of retail outlets. Reuters reported Tesla sales in China down 98% in April compared to the previous month.
More widely, car sales plunged by 48% to 1.18m units in April from 2.25m in the same month of last year, according to the China Association of Automobile Manufacturers (Caam).
As with other carmakers in the region, Tesla also needs more workers to stay in the Shanghai plant under China's closed-loop working rules if it is to meet production targets. Those rules require workers to live within the confines of the factory complex to avoid spreading the virus.
Tesla was forced to close the plant for 22 days between March and April because of the impact of the Covid outbreak in the city and China's zero-Covid policy. That policy led to rigid regional lockdowns.
Last week the plant almost stopped production altogether because of problems getting parts into the China plant, according to a memo seen by Reuters. It made just 200 vehicles on May 10.
Tesla has made around 10,750 vehicles since reopening, according to figures from the China Passenger Car Association (CPCA), referenced by Reuters. It sold around 1,500 of them but Reuters has also reported the first Tesla exports from China since the plant reopened, with nearly 4,800 exported from Shanghai to the Slovenian port of Koper on May 6. The carmaker had aims to export 300,000 vehicles from China in 2022.