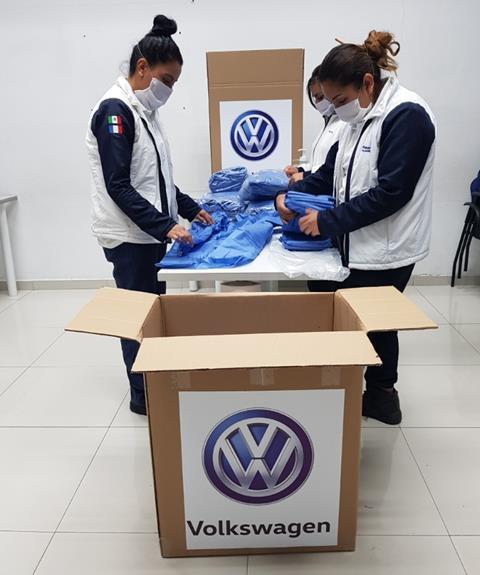 In the latest example of how car manufacturers and their suppliers are turning their operations over to fight the coronavirus pandemic, Volkswagen is collaborating with Faurecia to produce medical gowns and facemasks at the latter's Puebla facility in Mexico.
"Early in the epidemic, VW Group of America (VWoA) put together an internal taskforce to identify ways in which we could utilise our resources to help," a spokesperson told Automotive Logistics. "In talks with Faurecia, who normally produces fabric and seat trims for us, they told us with some assistance, they could shift production to medical masks and gowns. Most critically, they required help in sourcing the FDA-approved mask materials, which we worked with them to secure."
The US Food and Drug Administration (FDA) is a federal agency of the US Department of Health and Human Services responsible for protecting public health.
The carmaker then secured an order for 70,000 masks and 5,000 gowns so that Faurecia could shift production over to medical supplies. With the first order complete, VWoA donated and delivered one shipment via air charter flight from Mexico to New York.
Volkswagen donated the first run of Faurecia-produced masks and gowns to New York State's Covid-19 response efforts. The shipment of equipment arrived last week for distribution at area hospitals including New York City's Javits Center, which has been turned into a temporary hospital staffed by the Federal Emergency Medical Agency (Fema) and Army medical personnel.
"Volkswagen is proud to have partners like Faurecia willing to step outside their usual scope and drive something bigger," said Scott Keogh, president and CEO, Volkswagen Group of America. "This joint effort is putting the ingenuity of VW and our supplier network on full display, and we don't plan on stopping our response to this crisis here."
Further orders are expected through VWoA, but Faurecia is now also accepting and fulfilling orders from outside businesses, equal to 250,000 masks and 50,000 gowns per week, which is enabling it to keep a portion of its business running during the crisis.
Industry-wide initiative
Other carmakers are making similar efforts. Fiat Chrysler Automobiles (FCA) said it was installing production capacity capable of manufacturing more than 1m protective facemasks per month for distribution across North America. The carmaker said it was the first step in "a multifaceted global programme" being developed to apply manufacturing, supply chain and engineering expertise to support the global fight against the coronavirus pandemic.
"We've marshalled the resources of the FCA Group to focus immediately on installing production capacity for making masks and supporting those most in need on the front line of this pandemic," said FCA CEO Mike Manley.
GM has also launched a rapid-response project to produce masks at scale from its US plant in Warren, Michigan. Last week the carmaker began deliveries of its first batch of 20,000 protective masks for frontline workers, all of which are expected to be delivered by April 8. The carmaker said it was ramping up to 50,000 masks per day, with the potential to increase that daily output to 100,000.
More than 30 engineers, designers, buyers and members of the manufacturing team were asked to help with product development, sourcing materials and equipment, and planning the production process.
Ford, meanwhile, is collaborating with GE Healthcare to produce 50,000 ventilator units within 100 days and up to 30,000 a month thereafter as needed. Ford will initially send a team to work with ventilator producer Airon to boost production in Florida, and by the week of April 20, will start production at Ford's Rawsonville Components Plant in Ypsilanti, Michigan.