In recent years, a number of shifts in the industry have begun to affect traditional dealership models, changing the types of relationships that exist between dealers, OEMs and customers.
As OEMs move increasingly towards selling more vehicles directly to customers, there are growing indications of significant impacts for traditional dealers. There are also signs that the slow but relentless move towards shared ownership models and autonomous vehicles is beginning to shake up the way stakeholders across the automotive sector interact with each other.
Shifting sales
As consumers grow ever more comfortable with the notion of researching and even purchasing vehicles direct from manufacturers – either online or via some other channel – many automotive OEMs around the world are beginning to implement organisational changes to facilitate such sales.
One of the early front-runners in this area is Volkswagen (VW), which recently announced its intention to make its sales organisation "fit for the future". The company plans to work closely with its dealer network to "fundamentally realign" its sales model, beginning with a launch in Europe in April 2020. The objective of this restructuring operation, according to the OEM, is to provide "seamless, individual round-the-clock support for customers going far beyond vehicle sales on the basis of a unique Volkswagen customer ID".
In addition to such service-oriented disruption, the company also predicts that the experience of buying cars will change in the near future, as online sales are massively expanded and direct sales become more common.
Fellow German carmaker BMW also recently acknowledged a pressing need to "completely revolutionise" its dealership and sales network in the coming decade, revealing plans to provide a "more interactive" car retail experience over the next two years.
There are growing signs that companies like VW and BMW are not alone in such reappraisals of their sales models.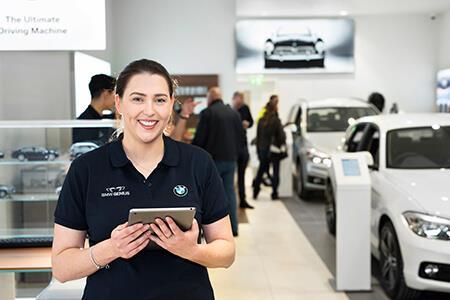 BMW's first UK Urban Store at the Bluewater shopping centre in Kent offers 'product geniuses' to assist customers during their browsing experience
Julia Saini, vice-president, mobility, global aftersales and retail at analyst Frost & Sullivan, says the number of online sales test-beds has been steadily increasing over the past 18 months and she has "no doubt" they are moving from being managed by dealerships to being managed by OEMs via their national websites. At least part of this growing interest in accelerating online sales, she suggests, is driven by the vehicle subscription model currently being offered by "at least 12 OEMs in North America and Europe", and by dealerships which do not want to be left behind and have therefore also created online models.
Despite such changes, Saini says vehicle dealers remain integral to the existing value chain. In her view, the only major exception lies in new brands like Lynk & Co, which do not have a dealer network and are instead happy to interact directly with the customer, for example when a representative drops off a vehicle or picks it up for maintenance in an arrangement made via a digital platform or app.
"We believe about 30% of new car buyers today would buy online if their OEM of choice has a robust online platform. By 2020, 3% of all new vehicles sold in the US and Europe will be on a subscription model – up from 0.4% today," she says.
Contract changes
Antje Woltermann, MD of German automotive body Zentralverband Deutsches Kraftfahrzeuggewerbe (KFZ), says that following the expiry of the automotive sector Block Exemption Regulations in June 2013 (one of a number of sector-specific EU competition laws), almost all brands changed their dealer contracts in Germany and Europe.
"These changes were all to the disadvantage of dealers," she says. "For example, multi-branding has become more difficult and it is no longer possible to sell a company including the dealer contract without prior consent from the OEM."
Woltermann agrees that direct sales have increased recently, especially in Germany, where domestic brands have their own subsidiaries that they use to sell new cars. She also observes that more and more fleet sales are handled directly by manufacturers.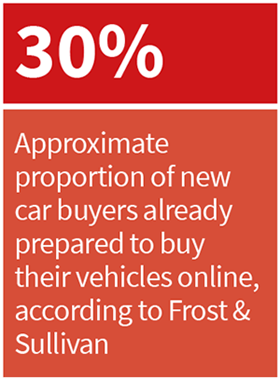 "The share of direct sales in Germany is 30% of all new car registrations. Dealers are, however, involved, for example in delivering the cars and receiving a fee. Online sales have not been of any importance so far. There are online platforms for new and used cars, but they only initiate the purchase of a car. The contract of sale is still concluded at a dealership," she explains.
"In Germany there has always been a high number of direct sales, which can be divided into fleet sales and private sales. For private sales, manufacturers sell via their own subsidiaries – a situation that has existed since before the World War II. This is nothing new," she adds.
Sue Robinson, director of the National Franchised Dealers Association (NFDA), which represents franchised car and commercial vehicle retailers in the UK, points out that the automotive retail sector is currently facing two key trends: the upgrading of facilities and consolidation. Both, she suggests, are linked to increased costs and overheads, as well as higher consumer standards.
"Although the vast majority of consumers conduct in-depth research on the internet, less than 2% finish the whole transaction online. Currently, the few manufacturers with a direct online purchase system still distribute their vehicles through their dealer network," she says.
Two main OEM strategies
In moving towards the types of organisational changes required in today's rapidly changing technological landscape, and considering the pros and cons of online and direct sales in terms of costs, lead times, efficiency and logistical practicalities, Saini says companies around the world have tended to employ one of two distinct strategies for online vehicle sales.
The first is the 'factory to consumer' approach, used by OEMs like Tesla and Lynk & Co, which have established boutique-style stores in shopping malls and fashion districts aimed at achieving maximum footfall. These 'experience centres' allow customers to check out vehicles, and have retail staff on hand to help people run through the purchase process via in-store touchscreens, or advise them how best to continue the process wherever they have internet connectivity. Under this model, vehicles are directly supplied to buyers from the factory through the OEM's own delivery service. In most European countries, however, the total number of vehicles sold this way remains low.
The second strategy, which Saini describes as the 'digital platform purchase', entails delivery via the existing dealership network. Here, companies such as Hyundai, Peugeot, Ford and JLR have partnered with retail software developers to create an online sales platform that allows customers to manage preferences relating to aspects like financing options or delivery location.
"However, the logistics, delivery coordination and aftersales service will continue in the traditional dealership. The OEM may compensate the dealership for handling the vehicle delivery," comments Saini.
The role of LSPs
In broad terms, Saini argues, most existing online and direct sales models result in minimal disruption to the operations of finished vehicle logistics providers. Generally speaking, a customised vehicle that has been ordered online is simply shipped along with the planned fleet of vehicles leaving for the local traditional dealership, with the dealership paid a handling fee for it by the OEM.
But that is not always the case. "Smaller and newer companies like Lynk & Co or Tesla make it possible to create a genuine purchase experience as the lack of a physical dealership means the company employs a delivery team to control this key element in their purchase value proposition," she says.
Emmanuel Cheremetinski, board member and executive vice-president, inland, for finished vehicle logistics at Gefco, believes the 3PL is well placed to adapt. Many players have already started embracing these trends, he says, which have "disrupted the traditional roles between OEMs, dealers, fleet managers, and supply chain providers".
Cheremetinski highlights the fact that most OEMs now provide services directly to customers through online channels, which means customers can test cars without going to dealers, plan their visit on apps, and then buy a car online.
My Car Is There
As OEMs and dealerships adjust to the changing technological and organisational landscape, vehicle logistics providers are also assessing how best they can accommodate the shift to online sales and direct deliveries. One of the more interesting logistics sector responses to such ongoing changes is the emergence of smartphone apps designed to organise the delivery of single vehicles.
A prominent example is the My Car is There (MCIT) app, developed by an in-house team at Gefco. The purpose of the app, which won the Innovation Leader category at the Automotive Logistics Awards – Europe last year (pictured above), is to allow an individual customer to organise the door-to-door transport of a single car with a smartphone application. Cheremetinski says the technology relies on a digital platform solution to serve the business-to-business (B2B) and business-to-consumer (B2C) market for the transport of individual cars.
"In just a few clicks, MCIT technology allows a car owner to organise the pick-up and delivery of a car to any destination with real-time track and trace convenience. We are very much willing to repeat this kind of experience in the close future," he says.
"In the meantime, dealers have started developing click-and-collect services as well as business-to-consumer (B2C) deliveries, following retail codes. Such new solutions mean services must be more and more individualised," he comments. "This is, of course, a challenge for traditional players, but also a tremendous business opportunity for those who can transform to meet the new challenges. Succeeding means they will position themselves as key providers of tomorrow's mobility."
Cheremetinski also stresses that there are opportunities in the used car market. "We are currently leveraging digitalisation to offer a portfolio of value-added services to manage the full lifecycle of a vehicle," he says. "Our range of complementary car services responds to what mobility players need and we are pleased to partner with them. For example, in the United Kingdom, we are already providing valet services for car delivery to individuals."
End of an era?
Will dealerships continue in their current form, given all these developments? And what can they do to survive, or even thrive, in this new era of mobility?
According to Cheremetinski, a whole host of novel automotive logistics needs have been created as a result of such disruption, putting the onus on all large automotive players, including OEMs, leasing companies, dealer groups, auctioneers and pure 'e-players', to anticipate and manage change in customer behaviour driven by such new technologies.
"Evolutions in the automotive market have a strong impact on dealers. Visits to dealers have decreased by 40% in Europe over the past few years and one in every three Europeans say they would be ready to buy their car online. Dealers have already started offering click-and-collect services and the variety of mobility solutions will contribute to creating new business," he says.
Woltermann says it is too early to comment on the possible impact of autonomous vehicles on dealers and, at least as far as Germany is concerned, predicts it will be "many years" until fully autonomous vehicles are used on public roads. But more fundamental changes to the role of traditional car dealers are likely to emerge as a result of online sales and an increase in the adoption of shared or fleet ownership models, she says.
To begin with, she suggests that in the future, cars sold to online customers as well as to mobility service providers will be supplied directly by manufacturers – with car dealers taking over responsibility for certain tasks such as delivering the cars and explaining connectivity systems.
"For taking over these tasks, dealers will receive a certain fee. Since car dealers will still have to run their traditional businesses, the question is what future remuneration systems will look like," she says.
"We assume that car manufacturers will become more and more active in car sales. However, they will keep using a network of selected companies, for example, for servicing cars or for certain explanatory tasks. As a result, the number of such companies will be much lower than the number of dealers we have today. In addition, there will be less dealers who offer both sales and service. We expect new sales and service formats to emerge in the future," she adds.
Given that some new mobility concepts like vehicle-sharing are especially suited to big cities, however, Woltermann contends that traditional dealers could remain successful in more rural areas, perhaps by co-operating with local partners and offering regional mobility concepts.
---
"Smaller and newer companies like Lynk & Co or Tesla make it possible to create a genuine purchase experience as the lack of a physical dealership means the company employs a delivery team to control this key element in their purchase value proposition" - Julia Saini, Frost & Sullivan
---
Over the longer term, although she thinks it very likely that dealers will continue to exist, Saini agrees that their revenue streams, as well as the services they offer, will be "multi-fold". Among other things, such services are likely to include the provision of pick-up locations for vehicles sold online, autonomous taxi checkpoints and car-sharing pick-up locations, as well as vehicle service and charging stations. Saini predicts that some dealers will also provide a digital test-drive vending kiosk that can recognise the faces of customers who have pre-booked test drives – "all while they still continue to exist as a vehicle sales touch point with digital tools that enable the dealership to provide a personalised customer experience predicting personal preferences," she adds.
Robinson of the NFDA remains confident that retail facilities will continue to be needed close to where customers reside. "They are essential for maintenance and repair, warranty, general guidance on new and used vehicles specifications, and enabling customers to test-drive the vehicles they are considering for purchase," she states.
So that should provide some comfort for those dealerships wondering what role they still have to play in tomorrow's brave new online world.