Groupe Renault and Google have announced a new industrial and technology partnership to accelerate the digitisation of the carmaker's Industry 4.0 transformation. Victoria Johns investigates the benefits of cloud computing for the carmaker's supply chain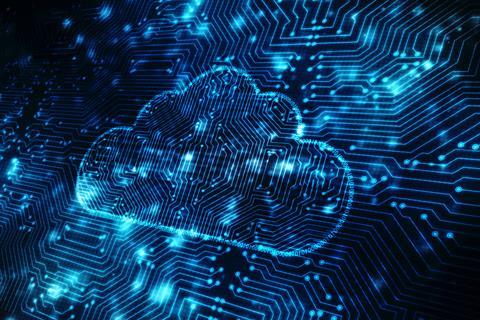 Renault's collaboration with technology giant Google extends back to 2019, when the companies announced that the French carmaker had begun using Google data services to refine its manufacturing process. Roll forward a year and the global pandemic has disrupted supply chains and distribution channels across the automotive sector, accelerating the need to accurately forecast demand and optimise supply by integrating data from multiple sources and analysing it in real time.
On July 9, Renault and Google formed a technology partnership to advance the digitisation of Renault's Industry 4.0 systems using Google Cloud, a platform run by Google offering a suite of cloud computer services. A major component of the multi-year contract is the optimisation of the carmaker's in-house industrial data platform, which connects and aggregates data from 22 global sites representing 76% of vehicle production and 2,500 machines. As part of the agreement, Renault will shift data to Google Cloud and make use of the platform's smart analytics, machine learning (ML) and artificial intelligence (AI) to improve supply chain and manufacturing efficiency and production quality. The OEM said it hoped the migration would enable it to foster "new vertical solutions for the automotive industry" while embarking on a new programme of work designed to digitally train Groupe Renault's in-house staff.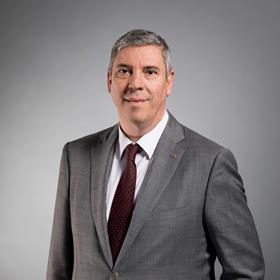 "This collaboration is a perfect illustration of Groupe Renault's digital strategy, applied here to the industrial field," says José Vicente de los Mozos, director of manufacturing and logistics, and a member of Groupe Renault's executive committee. "This agreement and the commitment of our IT teams will allow us to accelerate the deployment of our Industry 4.0 plan, which is designed to transform and connect our production sites and logistics processes around the world, and improve our standards of excellence and performance. This partnership is also an asset for Groupe Renault employees who will benefit from high-level training in digital data management."
This agreement and the commitment of our IT teams will allow us to accelerate the deployment of our Industry 4.0 plan, which is designed to transform and connect our production sites and logistics processes around the world, and improve our standards of excellence and performance – José Vicente de los Mozos, Groupe Renault
Driving digitalisation
In recent years, logistics 4.0 technologies have emerged as increasingly important tools in the automotive logistics sector, with a growing number of OEMs, tier suppliers and logistics providers exploring the potential benefits of their deployment: improved operational efficiency, accuracy and visibility, optimised inventory management and enhanced human workforce capabilities.
Groupe Renault has been developing its own digital platform since 2016, including services such as Full Track and Trace, designed to improve part identification by standardising traceability. The platform allows users to view all the serial numbers of engine parts and their manufacturing journeys at the OEM's Valladolid plant in Spain.
At Maubeuge in France, Renault automatically tracks the movements of packages containing parts fitted to its vehicles. It has also put in place traceability of prototype parts for its Vehicle Prototype Development Center at the Guyancourt Technocentre, meaning employees know instantly which part is to be fitted to a given test vehicle to ensure it is compliant.
The carmaker uses virtual reality (VR) to anticipate maintenance issues and a packaging visibility system (PVS) to view programmed packaging flows, current flows and flow history. Active RFID tags and LoRa (a low-power, wide-area network protocol) are also used to geolocate vehicles, enabling real-time identification of those ready to be delivered.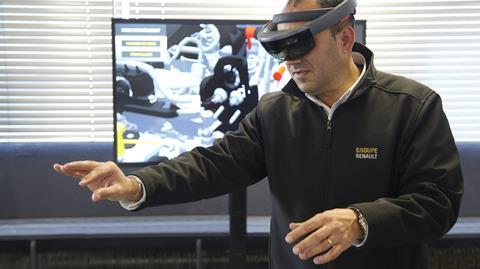 Integration and inventory
By improving part identification and implementing geolocation data, the integration of data and real-time tracking continues to be a major objective for Renault with which it can monitor its inventory and procurement.
"Integrating data from multiple sources and analysing it in real time is a job analytical tools like BigQuery [serverless data warehouse] were designed for," says Rajh Das, Google Cloud manufacturing and industrial lead for the UK and Ireland. "By applying smart analytics and AI, manufacturers can better predict demand and adapt their operations to meet it.
Das says Google is excited about combining its strength in ML and AI with Renault's expertise in automotive manufacturing to create new industrial solutions.
"We'll use the latest in smart analytics, ML and AI to enable Groupe Renault to improve its supply chain and manufacturing efficiency," he says. "Our technology and joint efforts will also allow for the development of new use cases that enhance Renault's production quality, and aim at reducing its environmental impact."
Having been recognised in 2019 for lowering the volume of CO2 emissions from its freight transport, Renault says it hopes its partnership will Google Cloud will help to further reduce its carbon footprint. High energy consumption, emissions output, resource scarcity and waste are just some of the environmental issues OEMs have to manage. Using big data to provide transparency on resource and energy consumption helps to cut that consumption and make parts and vehicle production more efficient and cleaner.
Autonomous supply chain
In the past decade, digitalisation and AI have transformed the competitive landscape in many industries, and this revolution will only continue. The automotive industry faces continuing pressure to launch new, complex product designs, such as electric vehicles, that meet strict global emissions deadlines, operating in geographically sprawling, complex supply chains.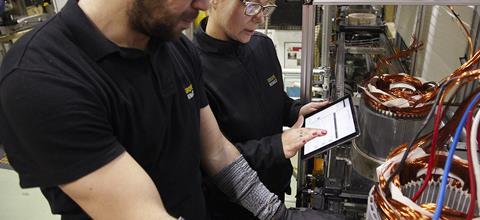 By harnessing vast amounts of data from both digital and physical assets into supply chain business processes, carmakers such as Renault can leverage AI and ML to create schedules and manage workflows, enable robots to work safely alongside humans on factory floors and assembly lines, and identify defects in components going into cars and trucks. By pioneering the concept of the autonomous supply chain, in which any deviations from planned performance are sensed, analysed, and corrected in real time, automatically and without any human involvement, predictive visibility can be enhanced.
Das believes one of the main advantages of AI for OEMs is route optimisation, resulting in notable cost savings.
"AI can help mitigate problems with last-mile delivery, which accounts for more than half of all shipping costs," he says. "The ability to optimise routes using real-time weather and traffic data, as well as to deploy ML models to predict where new pickups are likely to come from, will enable companies to minimise operating expenses while maximising services.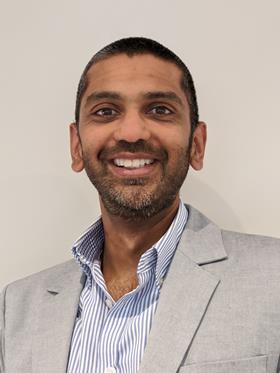 Google's partnership with Renault is one of the latest examples of the automotive industry joining forces with smart software providers. Amazon Web Services (AWS) and the VW Group in Germany have announced a multi-year, global agreement to build the VW Industrial Cloud, a digital production platform that will transform the automotive company's manufacturing and logistics processes (see the following article on our Livestream Review for more details and also our online content). Porsche has also unveiled a new approach to contract management, selecting US software specialist Icertis and deploying its Contract Lifecycle Management solution across 18 business units.
By using cloud computing to store and access data, OEMs have the chance to scale global vehicle services, including telematics, fleet management, over the-air software updates and connected vehicles. Volvo, for example, is developing a warning system for slippery sections of road using its first cloud-based security technology. When a Volvo vehicle detects an icy or slippery section of the road, the information is transferred to the Volvo Cars database, from where it is sent to all cars approaching a dangerous section.
Das concludes: "We like to think that at the core, Google Cloud is a platform which supports the digital transformation of the auto industry across its entire value chain. When it comes to logistics, organisations can now harness the cloud to make their supply chains more robust, agile, and intelligent."