Over the past two years, Volkswagen's central Group IT division, led by CIO Martin Hofmann, has been expanding staff numbers, investment and digital projects across the group's business processes, and working more closely with brands like Audi, Porsche and Skoda. In the first of a multi-part article special on Group IT, we explain the evolving shape of the organisation.
Volkswagen Group IT is a window into the present and future of the company. It leads on introducing new technologies across the enterprise, with major initiatives in cloud technology, artificial intelligence and data analytics. It is likewise an occasional glimpse into Volkswagen's past through the many legacy systems that the department must maintain across its system backbone across more than 120 plants and a workforce of more than 640,000 employees.
Group IT is also a key example of how Volkswagen is reshaping its management structure, culture and even its business model.
In the past two years, the department has been ramping up its investment and implementation of IT projects as well as reorganizing to deliver IT services and innovations through a stronger matrix organization – one which is both integrated as a central management team at Volkswagen Group, but also distributed across the company's brands and major regions.
For vice-president and group chief information officer Martin Hofmann, who has led Group IT at Volkswagen since 2011, the changes reflect how IT has shifted across the industry from being the "order takers" in a support function, to driving core business decisions.
"We are at the forefront of business transformation. We develop and bring in new technology, we shape standards and collaboration," he says. "The responsibility and requirements have increased, and so has our need to be more proactive."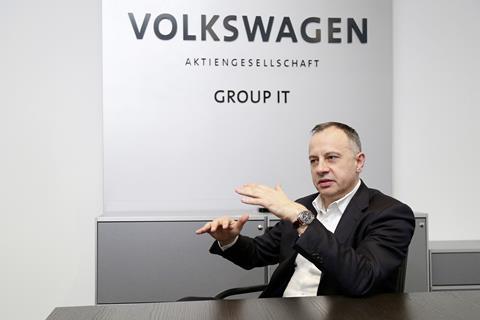 Growing IT staff and competencies
The increasing responsibilities cover enterprise and business IT functions at Volkswagen – including major ERP (enterprise resource planning) and cloud system projects – along with research and innovation (in-vehicle IT and software is managed separately, see below). For example, Group IT manages an expanding network of global IT labs and software development centers (see a map of key locations here) focused on topics like AI and quantum computing, robotic process automation and even micro-mobility solutions.
From initially operating in research mode, several labs are now helping to apply products and systems in daily business and serial production, in business areas as diverse as Formula E racing optimization, to using AI to forecast spare parts inventory and pricing.
These major products and investments are on top of what Hofmann calls Group IT's "bread and butter" functions, including maintaining the smooth running of legacy systems and running IT service desks.
"If you neglect your [legacy systems and support functions], you are betraying your business partners," he says.
"Let me put it simply: If the service desk is not functioning well, the new strategic, digital and technological advances won't succeed."
Managing IT at the coalface whilst leading a wider transformation of systems has led Volkswagen Group IT to hire more staff even as the company and the wider automotive industry face economic headwinds. In the past three years, Group IT has gone from 12,000 employees to 14,000, with a global budget of around €5 billion ($5.5 billion).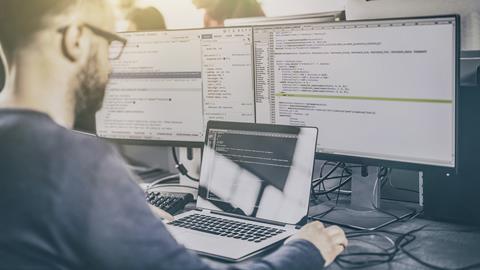 A further set of digital initiatives and IT modernization projects across Volkswagen will add yet more IT and software employees. And Hofmann estimates a significant requirement for more in-house software and application developments, eventually covering up to 50% of business needs.
"That is why we are progressively hiring more Java developers in our software development centres to develop cloud-based tech on our own," he says.
This expansion of Group IT is not, however, the growth of a monolithic, waterfall, command-and-control organization across automotive IT operations. Rather, staff and functions are increasingly distributed through brands, both for local delivery of services and systems, as well as for specialization and research. Employees might be employed under Audi, Porsche or Skoda contracts, but also work as part of Group IT. And projects concentrated in one brand are increasingly global centers for the group.
"We have combined local competency and need with a global governance that makes sure we use the capability we have anywhere on the planet, which we didn't do so well before," says Hofmann. "We enable brands and locations to take a lead role in the group."
The major examples of this sharing are spread across several large IT domains; Volkswagen Passenger Cars is taking a lead on R&D systems; Porsche on production IT; and Audi on sales-related systems.
But other brands are also playing key roles, such as Skoda in SAP functionality, MAN for commercial vehicles and Seat for smart industrial applications.
Strict global standards, flexible local knowhow
The Group IT organization is divided between 'demand' functions covering business and service requirements for brands and plants, and 'supply' functions that create focus areas within locations or brands to serve the group.
The demand side includes areas like IT infrastructure support, service desks, manufacturing or dealer-related IT, with brand IT staff to meet these needs. Each brand has its own CIO, for example, responsible for delivering specific IT requirements. Since earlier this year, that includes Volkswagen Passenger Cars, with Abdallah Shanti as brand CIO.
Volkswagen consolidates those processes and systems at group level to find overlaps and develop standards. According to Hofmann, such agreements are managed in an open way to ensure the brands accept them, which is important since it requires some to use new systems.
"We are very strict on defining standards but all of our brands are involved with our experts in setting them, so there is a very strong buy-in," says Hofmann. "It is not done behind closed doors, but in an open-source approach."
This process has been important in developing the Industrial Cloud, which Volkswagen is building together with Amazon Web Services (AWS) and Siemens. Brand and plant IT functions had important input that went into designing the framework and capabilities in the cloud, as well as in choosing partners. In return, it will mean that all group plants will develop shopfloor production and logistics jointly on the cloud to ensure they are shared company wide. (For more detail on Volkswagen Group's Industrial Cloud strategy and system build, click here.)

The supply side includes more specific technology development in expertise areas. These can be in either group or brand locations, but work as central IT competency centers for the entire group.
The Digital:Lab in Berlin, for example, is a group software development center for enterprise functions, including platforms and cloud technology for all brands. In Prague, a new Skoda IT center manages SAP-related data and software for the brand, while also developing SAP S/4 Hannah solutions for the entire group. In Barcelona, a new IT center, Seat:Code, is developing software for Seat and for the entire group.
In recent months, Volkswagen has opened or expanded further centers in Dresden and Delhi, while it is expanding competencies at other locations as part of the Industrial Cloud, including in Wolfsburg, Berlin, Dresden and Barcelona.

"We have combined local competency and need with a global governance that makes sure we use the capability we have anywhere on the plant, which we didn't do well before. We enable brands and locations to take a lead role in the group"

Martin Hofmann, CIO, Volkswagen Group
Defining a new culture
These locations are important not only as technology innovation and delivery centers, but in recruiting talent, and even influencing working culture across the wider group. Volkswagen has built the centers on principles such as agile working, DevOps and extreme programing, partly with the goal of increasing the speed of development, but also to create a distinct culture from the more staid and hierarchical culture that had long been associated with the company's corporate culture.
"If you go to our Berlin, Lisbon or Munich labs, you wouldn't know that they were part of Volkswagen. We have people in the offices that just focus on the atmosphere and culture. We know from our employees that they love to work here," says Hofmann.
For Hofmann, the key is for best practice to move in both directions between group and the brands. Contrary to seeing the central role of Group IT dissipating at Volkswagen, he says it now a more coherent and joined-up organization that can purchase and standardize at scale, while making the most of local knowhow.
"Over the past few years, the world is becoming digital at a speed whereby a single organization cannot cover the entire spectrum anymore," says Hofmann. "The brands don't have the scale or resources on their own to develop everything, such as cloud platforms.
"The speed and scale of digital change has been melting us together into one global unit with different locations."
We have combined local competency and need with a global governance that makes sure we use the capability we have anywhere on the planet, which we didn't do so well before," says Hofmann. "We enable brands and locations to take a lead role in the group."
We're hiring!
The increase in staff at Volkswagen Group IT is in addition to significant expansion in IT in other parts of the company, including the development of in-vehicle software. Vehicle software development is distinct from Group IT and has been bundled within the Volkswagen Passenger Car brand.
However, as with Group IT research and delivery areas, it is developing applications on behalf of the entire group. This technology falls under the leadership of Christian Senger, member of the board of management at the Volkswagen brand for the Digital Car & Services unit, which Volkswagen created earlier this year.
Besides the Industrial Cloud, Volkswagen has a major project with Microsoft to develop its 'Automotive Cloud', which bundles all car-related software in the cloud. Volkswagen recently created a new software unit, Car.Software, with the aim of increasing its in-house share of car software development to 60% by 2025, up from 10% now.
By then, the company anticipates hiring a further 5,000 IT and software experts, according to Senger.
This story originally appeared in our sister publication, automotiveIT International.
A program of change for Volkswagen Group IT
1

Currently reading

The new shape of IT at Volkswagen

2

3

4