Volkswagen Group's landmark project with Amazon Web Services will help to connect all its global factories, and eventually the spply chain as well. At the core of the project is a drive to establish a standard software stack that will transform the way production IT is developed and implemented across Volkswagen locations.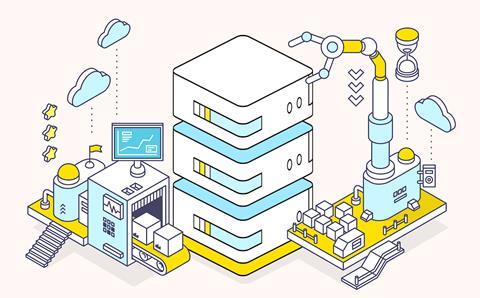 At the core of Volkswagen Group's decision to build an 'Industrial Cloud' connecting its production sites and supply chain, is an extreme proliferation of systems, standards and software across its 120 factories. Today, the group uses around 1,500 different IT systems on the shopfloor alone for manufacturing and logistics. It is not uncommon for a single plant to operate with dozens of different systems – hundreds once suppliers and service providers are included.
This "spaghetti connectivity", as Volkswagen Group CIO Martin Hofmann calls it, is not only confusing and burdensome to manage, but it limits the degree to which investment, innovation and data can be shared across the group. Information exists in pockets of the production network, while software applications are not always compatible across locations.
Volkswagen is not alone in this complexity, although its network of brands with legacy systems and processes makes it something of an extreme case. It has nevertheless increased productivity across its manufacturing and supply chain, thanks in part to many system interfaces and APIs that allow systems to communicate. But that has come with a price tag in individual systems, in extra time required and – perhaps most damaging for the future – in lost visibility. The Industrial Cloud will transform that.
A global architecture for production IT
Volkswagen is building the cloud with the support of two major suppliers: Amazon Web Services (AWS) will provide the cloud platform connectivity and software, whiles Siemens will connect production equipment to the cloud backbone.
Using AWS's suite of cloud, IoT and compute services, Volkswagen is building a new Digital Production Platform (DPP) that will serve as a new architecture to which all suppliers and service providers will connect. It will allow a predictive maintenance application developed at a plant in Germany, for example, to be available in China or the US almost immediately. Production planning and inventory management will be shared. In future, press machinery, paintshop and logistics equipment will link with systems across the globe, improving the potential for artificial intelligence algorithms to identify and learn from patterns.
Eventually, 1,500 suppliers across 30,000 global supplier locations will connect to the Industrial Cloud. "This is probably going to be the largest Industry 4.0 implementation in Europe," says Hofmann.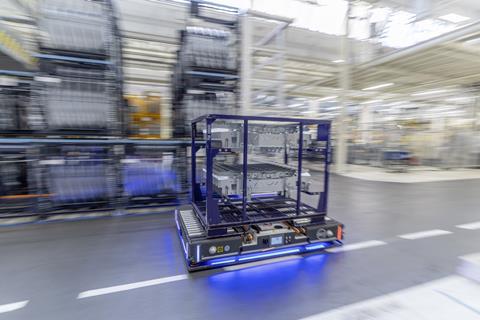 Volkswagen is already increasing staff and allocating work across its network of IT centers to focus on various applications of the platform and key areas. It has identified 150 use cases for the cloud so far, the first of which will be rolled out over the next three years. They include factory and equipment maintenance, goods tracking, autonomous logistics and artificial intelligence algorithms to automate manual supply chain processes.
"We are right now in the mode of setting up and staffing the teams, as well as implementing the first pre-use cases," says Hofmann.
While building the system will be a huge task over the next five years, its impact is already felt across the group's local production teams and equipment suppliers. The Industrial Cloud establishes an entirely new approach to developing IT and software: it will end the development in isolation of most locally specific solutions in favor of standardized development and investments. Likewise, machine and automation suppliers will no longer be able to import their off-the-shelf software stacks to a Volkswagen factory, but must abide by the DPP to assure global connectivity.
The process will be a phased one and won't result in a system shut down without replacement. However, establishing and agreeing standards across the group – and from across brands rather than from Wolfsburg – is essential to making sure that the Industrial Cloud is more than a dream in the sky.
Using local knowledge, reducing local complexity
The planning and supplier selection phase for the cloud lasted around eight months, which Hofmann stresses was an open source, transparent process that included agreeing standards across Group IT, brands and plants. The approach has been for a flexible platform, adaptable for local conditions, but with a strong enough backbone to allow shared software and applications.
"All the brands were involved in designing the framework from day one for what is included and what capabilities we needed in designing the cloud," says Hofmann.
In return, all brands and factories received an official letter from Group IT stating that, with the introduction of the cloud, they would not develop any more local IT solutions for production. Coming to such an agreement was not easy, but Hofmann says that the close involvement of all stakeholders helped them appreciate the benefits.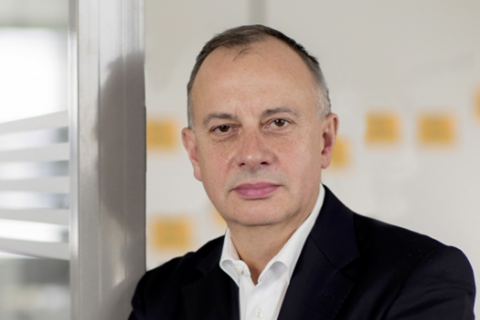 "The brands now understand that they will save by doing the development just once and sharing it across plants. They save on the investment, and they gain speed," he says.
As the company is still building up the Industrial Cloud, the 'stop local development' is not yet a strict verdict. But there are already processes in terms of Group IT governance that anticipate the introduction of the cloud, including reducing local complexity.
An example is establishing a common architecture for manufacturing machine software, which is one of the largest contributors to system proliferation. Kuka robots have different software to that of Fanuc, with yet another for paintshop or onsite warehouses. This variety means that applications like predictive maintenance for one machine might not work with others.
"We are defining with Siemens a standard set of architectures for our machine parks. It will allow us to harmonize much more," says Hofmann.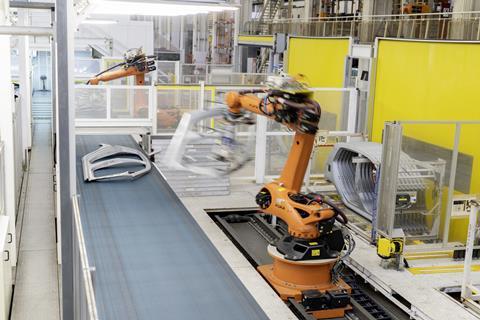 Expanding the IT network
The Industrial Cloud is also a significant driver of new skill and software development for the Volkswagen Group, both in-house as well as with its partners. In the current phase, there are 200 Volkswagen cross-functional experts working on the project, with 110 from IT, and 90 from production and logistics functions. Another 200 from AWS and Siemens are also currently involved.
The group is expanding first within its network of IT centers and labs. It already had centers with strong focus on production and the industrial internet of things in both Wolfsburg and Dresden, both of which are also working on industrial applications for the cloud. In Berlin, where a lab has focused on enterprise software, Group IT is working together with AWS on cloud platform development, while there are plans to a joint center in the German capital. In Barcelona, the company recently opened an expanded software center managed by Seat with smart industrial solutions capabilities that will also contribute to Industrial Cloud, says Hofmann. (For a map of key Volkswagen Group IT and software center locations, including for Industrial Cloud with AWS, click here.) Further international locations will be developed in future.
In terms of rolling out to plants, Hofmann says Volkswagen will follow the group's lead factory strategy, whereby manufacturing locations are global centers for the output of model series, sharing processes, suppliers and best practice across other locations. Rather connecting all factories in Germany first, the company will connect global production networks. Audi, for example, could see plants in Germany, Hungary and Mexico brought online together.
"In this way, we are distributing the workload to where the expertise is," says Hofmann.
Connecting the wider supply chain will come in later phase, the timeline for which Volkswagen is not yet ready to share.
"We are defining with Siemens a standard set of architectures for our machine parks, which the machine and robotic suppliers must follow. We will no longer accept their own software stack."

Martin Hofmann, CIO, Volkswagen Group
Connecting China
While the cloud platform is based on global standards, Hofmann admits that there will be local adaptations for China. The country has specific regulations around internet connectivity and its national firewall, as well as a different ecosystem of tech companies than the US and Europe. AWS, for example, operates through third party partners in China.
"We will need a local partner to help us accelerate and not run into any critical trade situations. But we have already been in China for more than 30 years, and we have strong partners that we will use as we need."
But there is no way to connect Volkswagen Group's global production network and supply chain to the cloud without including China. While the execution will have some differences, the essential strategy of a platform-based architecture will be the same for China as for elsewhere. It will be flexible enough for local suppliers to adapt to it, but the result will still allow for sharing of IT systems and development costs. And keeping China connected – where Volkswagen Group has 23 joint venture plants – will bring considerable benefits.
This story originally appeared in our sister publication, automotiveIT International.
A program of change for Volkswagen Group IT
1

2

Currently reading

Building Volkswagen's Industrial Cloud

3

4