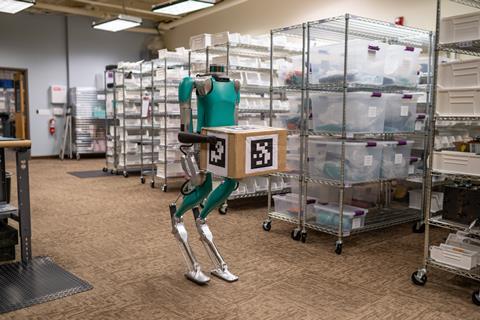 Ford Motor Company has taken delivery of the first two humanoid robots from partner Agility Robotics in order to explore ways the OEM's commercial vehicle customers can make warehousing and delivery more efficient and affordable.
Ford and Agility have been testing out a prototype of Digit, a robot with arms and legs since May, and the companies plan more research on indoor, first-mile logistics and last-50-feet delivery.
"As online retailing continues growing, we believe robots will help our commercial customers build stronger businesses by making deliveries more efficient and affordable for all of us," said chief technology officer Ken Washington, vice-president of Ford Research and Advanced Engineering.
"We learned a lot [in 2018] working with Agility, now we can accelerate our exploratory work with commercial Digit robots."
Since pairing up with Ford, Agility Robotics of Albany, Oregon, has tested Digit extensively, refined the design, and added features.
Upgrades include more advanced feet that allow the robot to balance on one foot or carefully navigate obstacles and new sensors to perceive and map the world for robot navigation.
Now you're talking
Digit is designed to work with humans in human spaces and the ongoing research will focus on how Ford's commercial vehicles, including autonomous vehicles, and Digit 'talk' to each other and their surroundings through advanced connectivity technologies.
"For example, Ford's connected vehicles can continually update cloud-based maps that can be shared with Digit so it doesn't have to recreate the same type of information," the OEM, based in Dearborn said.
The companies' research team expects that, as Digit will be part of a package delivery service, the communication channel will also provide delivery specific information such as where a customer prefers packages to be left. The channel will also allow Digit to ask for help if something unexpected is encountered.
Digit is designed to walk upright without wasting energy, is lightweight so has a long run time and can be folded up tightly to fit in the back of a van until called into action.