Skoda's transmissions plant at Vrchlabí has made a huge shift towards digitalisation by implementing automated technology including handling and transport robots. Automotive Logistics met plant manager Ivan Slimak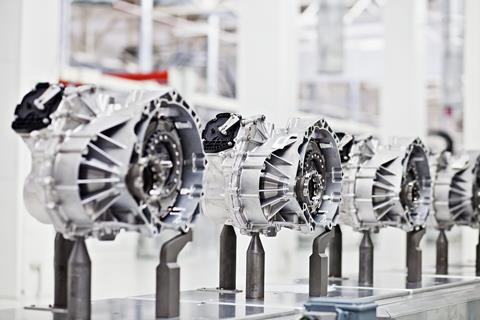 The smallest of Skoda's production plants, the Vrchlabí site in the Czech Republic has been producing direct shift transmissions for the Volkswagen Group since 2012. Skoda vehicles had been produced there since the 1920s, but in 2011 VW Group decided to convert the factory exclusively to the manufacture of automatic transmissions.
Starting in 2012, the Czech OEM modernised the site over a period of 18 months, turning the former car plant into a component factory with updated production halls. Today, 38% of the automatic direct-shift transmissions produced at Vrchlabí are used in Skoda cars, with 62% fitted in other VW Group vehicles. More than half the transmissions are shipped to Germany, with other destinations including factories in India, Poland, Russia, Spain, South Africa and Hungary.
Vrchlabí has now implemented a range of automation projects and uses industry 4.0 and Internet of Things (IoT) technology in several areas of the factory, boosting efficiency and productivity.
According to plant manager Ivan Slimak (pictured), one of the aims was to reduce the volume of parts on the shop floor while automatically ordering parts to the machines – no mean feat, considering that parts come from Germany, Slovakia, Hungary, Spain, France, the UK, the US, Japan and Israel. Approximately 300 components are used per transmission.
"We need an optimal flow of parts from the suppliers to the warehouse, and then to the machines, and so the first area we looked at was how to order parts from the machines or assembly lines and deliver them to a specific position," says Slimak.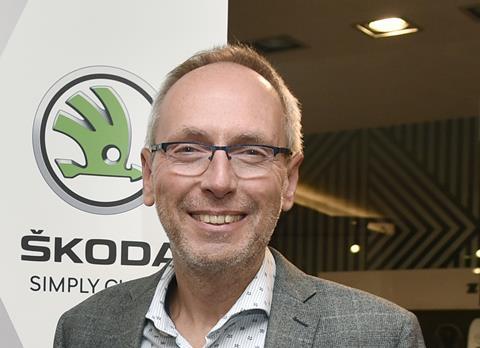 In the past, Kanban cards were used to organise the manufacturing operation, but later, employees were equipped with finger scanners to scan and send orders to the warehouse. Now the OEM has implemented an IoT system, with hundreds of sensors on the shop floor.
"When one small container is out of parts, the sensor sends a signal to the warehouse to prepare a specific part for a specific place," explains Slimak. "We have such a solution on the assembly line and each device wirelessly connects to the computer and sends signals about whether the container is full or not."
In addition to position sensors, RFID tags and other tracking devices are used in the factory.
Relying on robots
There are many parts which have to be brought from one specific place to another over and over again. "The simple AGV [autonomous guided vehicle] going from A to B had a magnetic strip on the shop floor, but if you're driving with another vehicle you can damage the strip, so you need to define a specific position and shape, which is why we've put the strip inside the floor for each AGV," explains Slimak. For safety, lights have been fitted to the AGVs. Skoda has also implemented wireless charging and various add- ons for the vehicles to automatically communciate with the assembly line or even do the handling.
However, there are more challenging tasks, such as how to bring hundreds of different parts to dozens of machines before bringing empty containers back to the warehouse.
To transport the parts and empty containers, Vrchlabí now operates a handling robot. No magnetic strip is needed and the robot can carry around 40,000 parts per day. It orientates itself on the shop floor via laser, and not only can it bring parts to 42 [turning] machines, it can also bring the empty containers from the machines to the warehouse. The route can be programmed and optimised very easily, according to Slimak.
Skoda has also been using a small autonomous transport robot to navigate around personnel and other AGVs since 2018.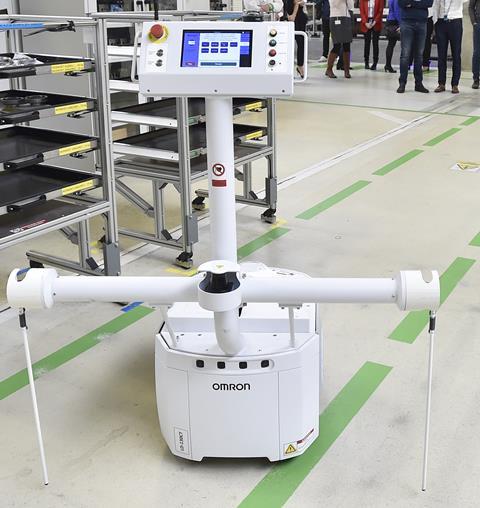 "Some of the transmission's high-precision parts have to be regularly measured in a designated area," explains Slimak. "Previously, the employee would take the part, go to the measuring room, leave the part, come back to the machine and go back to the room after awhile to bring it back. It was done like this for many years, wasting lots of operating time.
Along its journey through the factory, the robot is able to recognise obstacles and incorporate other information from its surroundings in real time when navigating its route. If necessary, it changes its course to get to its destination as quickly as possible.
The robot can transport a load of up to 130kg per journey, and to learn the route the robot only has to be guided once between the stations via a tablet or joystick. Per day, it completes approximately 120 trips and travels a total distance of 35km.
"We are happy with its performance for this challenging task," says Slimak. "However, we are currently only using the robot for small weights and are considering using an autonomous robot for higher loads close to several hundreds of kilograms. We're in the process of choosing suppliers and refining the specifications."
Technology trade-off
The automation projects have led to the loss of some jobs in certain areas of the factory, although Slimak emphasises that workers were retained for new tasks. Now, there are no logistics staff between the machining and the assembly section, the heat treatment room and the machining area, or between the warehouse and machining area. The only logistics personnel are in the warehouses and assembly areas, bringing some parts to the production lines.
"We wanted to reduce logistics staff on the assembly line and we've done this by using our AGVs, IoT and sensors," says Slimak. "We also wanted the whole machining area of the plant to be without logistics personnel and so we looked at how to bring the heavy forged parts to the turning machines autonomously."
When deciding which areas of the plant to automate, Slimak reveals that ergonomics was a big factor. "Our employees at Vrchlabí are getting older and that's why we're choosing areas where we can reduce the handling of heavy weight load," he says. Robots at the site are also used for small, monotonous tasks like putting screws into the transmission.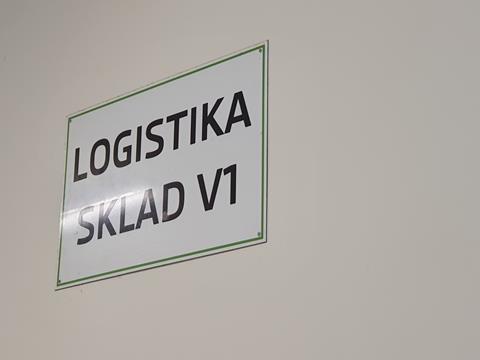 As part of the automation process, Vrchlabí's industrial engineers and HR department conducted an ergonomic study on all of its machines. "Based on the movement and weight evaluation at our assembly lines, we have a chart of the whole line depicted in green, red and yellow areas. Green means there's no problem, yellow [means] the problem starts, red is a bigger concern," explains Slimak.
Two years ago, Skoda set a target of increasing the amount of transmissions made at Vrchlabí from 2,000 to 2,200 per day. "During our research we discovered which position required the most movement and that's where [we decided] we'd start with the automation," says Slimak. "One position on the assembly line may move 1,000 parts a day. Doing this movement once a minute may be okay, but if you're doing it twice a minute, it's more weight for your back."
"One position on the assembly line may move 1,000 parts a day. Doing this movement once a minute may be okay, but if you're doing it twice a minute, it's more weight for your back" - Ivan Slimak
Using a computerised approach, the plant can create a simulation for 2,000 transmissions a day. When the capacity is increased to 2,200 it can calculate and simulate the process to see if code green can become yellow or red. "Instead of 300 movements, you may be doing 600," explains Slimak.
Supporting personnel
Slimak believes it is necessary to carefully consider the impact on current employees when digitalising an operation. In the past seven years, the OEM's has launched several automation projects – each discussed with trade unions – and offers training for new positions. "It has to have payback, a financial evaluation, but also an HR evaluation," he says.
Skoda offers a basic automation training programme in Mladá Boleslav. It also has digitisation training in Vrchlabí, using an array of electronic devices. "We've trained several hundred people and most of our operators have this [digitalisation] training," says Slimak.
In terms of operating complex devices, there is specialised training at a VW Group level, which sends Skoda engineers and technicians to Germany and China. This offers specific training for logistics, production and maintenance staff.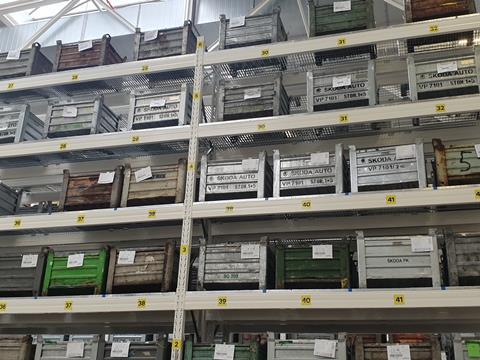 The OEM is also supporting schools, so that their students are well placed to join the company. "We have found that it's not enough to start to training employees when they start to work for us, that's why we have our own apprentice school," explains Slimak. "From 15-16 years old, pupils are undergoing training at the school and we're supplying them with our parts and equipment. Students are coming to our plant, working with our people on the shop floor, operating the machines; and the best students get jobs at our plant."
There is a Skoda apprentice school in Mladá Boleslav and the Vrchlabí plant is sponsoring a local apprentice school where the OEM is shaping the curriculum. "The same applies for university internships at the plant," says Slimak. "In Vrchlabí, we currently have several, even one logistics student from Germany."
Calculating costs
Slimak states that in order to automate and implement new digitised projects, it is also important for an OEM to have a good outline of what it wants to achieve, pointing out that a supplier "would like to sell you the most sophisticated but not necessarily the most cost-effective equipment".
"We have such a differing variety of AGVs," he continues. "For some purposes it's enough to have a very simple AGV with a magnetic strip, driving from A to B, but you must understand the process and environment. In the physical world there are different kinds of parts, weights, dimensions. Sometimes you need to design your AGV or your container for such a purpose."
"We wanted to reduce logistics staff on the assembly line and we've done this by using our AGVs, IoT and sensors. We also… looked at how to bring the forged parts to the forging workshop autonomously" - Ivan Slimak
Speaking about the importance of standardisation, Slimak cites suppliers' parts containers as an example. "If you're getting 40,000 parts in different kinds of containers, you also have to standardise those containers and also make sure that your suppliers are using them, otherwise you're not able to transport those parts from the warehouse to the machines or you end up having to do some manual handling," he says.
"It is possible to standardise containers from suppliers because you can tell them to use only a certain type, but you have to define it very early in the project and do not change your decision," Slimak continues.
According to Slimak, standardisation has an impact on safety. "We have a lot of people on the shop floor and so while an AGV could behave very smoothly three months a year, if there is suddenly some new service supplier in the factory running with an unusual kind of device – there could be a collision."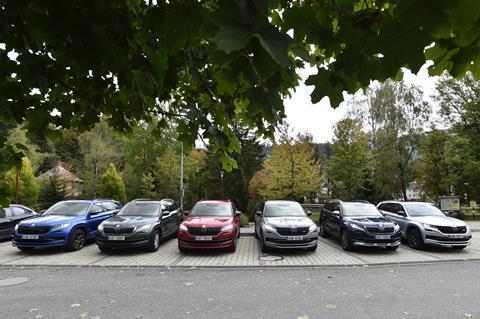 Since the implementation of digitalisation at Vrchlabí, Slimak says the plant has seen huge productivity gains. "If you choose your handling means effectively it can help you to increase output from 1,000, to 2,000 to 2,200 a day," he suggests.
In 2012, Vrchlabí made 1,000 transmissions per day, increasing to 1,500 in 2013 and 2,200 last year. In 2018, the plant celebrated 2m transmissions produced since 2012 and in November 2019, the three-millionth DQ200 automatic direct-shift transmission rolled off the production line.
"Digitalisation and IoT is definitely helping toward that increase," states Slimak. "We can produce more transmissions now with less employees. Nobody was fired, but we're able to increase output at plant. It's not the case at Skoda that people will lose their jobs for robots."
Further development
By 2021, Slimak wants Vrchlabí to use even less paper and more data from machines to do more predictive maintenance. He also wants to encourage more automation with local suppliers. "We can use the know-how and the cost advantage of our local suppliers to be able to be cheaper and better than our competition, in Germany for example," he says.
Vrchlabí is using German and Czech suppliers to reduce the implementation costs of robots. It buys German robots and German industrial computers, but the design and implementation are done in the Czech Republic or Slovakia.
"Take a collaborative robot used for assembly," suggests Slimak. "You need to define how you would like it to assemble a piston. How will it insert it? Will it take one piston at once or four? How should the robot communicate with the assembly line? What kind of container will it use? These are all questions you need to think about.
"Buying a robot or computer is only a small amount of the money. The know-how is how you implement the robot. We are now doing this mostly with local companies and we want to increase this."
Meanwhile, mobile maintenance technology which gathers information from the machines on the shop floor should lead to reduced downtime costs.
Skoda is launching a new digital production platform to gather standardised data by comparing it between VW Group plants. "We are starting a project with Siemens, looking at different VW locations to be able to compare data from the Czech Republic, Germany, Poland, even China," says Slimak. "The data will tell us how the machines are performing. We want to see how to bring data back to people at machines, so they can make correct decisions – we call it digital shop floor management.
"We have been consistently pressing ahead with the implementation of industry 4.0 technologies. We want to find the most cost-efficient, reliable way to take our plant into the future, but not do it in a complicated way – you could say, 'simply clever'."
CEE: At the heart of Europe's electric future
1

2

3

4

5

Currently reading

Shifting gears: How Skoda automated Vrchlabí