Panellists at Automotive Logistics & Supply Chain Global 2023 conference revealed the issues they face with unpredictability and the resulting logistics network challenges.
Many of the current capacity woes being experienced in North American automotive logistics are strongly rooted in the Covid pandemic of 2020-2022, according to a panel of automotive logistics experts at this year's ALSC Global conference held in Dearborn, Michigan. Chris Styles, vice president, Supply Chain Management, North America, Nissan told delegates that Nissan's "ability to predict became very fragile during those challenging times, and it was hard to communicate with our suppliers what to expect".
While inbound supply chains and outbound finished vehicle logistics have gradually recovered since the pandemic, many operators that cut back staff, fleets and equipment during the Covid period are struggling to now ramp back up to previous levels, with particular challenges around labour and fleets. Furthermore, even in the 'new normal' there is a seemingly relentless sequence of external challenges such as the semiconductor shortage, inflation, wars and environmental events. This 'perma-crisis' state is often caused by issues outside of the control of logistics operators, which makes responding to those disruptions all the more challenging.
An industry in perma-crisis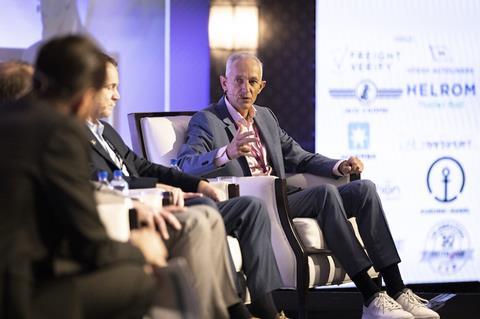 Achim Glass, SVP and head of Global Business Development Automotive + New Mobility at Kuehne + Nagel explained that from a freight forwarders perspective, there are three key issues that "keep the majority of our customers up at night"; capacity, where there is oversupply or not enough demand, geopolitical tensions, and extreme weather conditions. While many parts of the North American automotive logistics industry, in particular FVL and rail, suffer from a lack of capacity, some aspects of the logistics industry are experiencing the opposite problem. This is especially apparent with overcapacity in container shipping, resulting in a rapid fall in freight rates back to relatively normal levels, albeit from the spike in rates experienced over the Covid period.
Nonetheless, these three main factors in combination with other external factors creates a 'perma-crisis' whereby companies are almost continuously operating in crisis mode and reacting to events, rather than being proactive.
Of course, pre-Covid, crises were rare, and disruption was generally more the exception rather than the norm. but it now seems, or at least it is perceived, that one crisis seems to roll into another. One silver lining to this 'perma-crisis' is that individuals and companies are more used to this mode of operation and are more prepared and better equipped to respond.
Partnership as key to improved visibility
Crisis, whether it exists on the inbound supply chain or within finished vehicle logistics, is fundamentally mitigated by exchanging data, and partnership is key to this. However, it is often undervalued due to silo-thinking. Furthermore, the complexity of the logistics value chain can make it difficult to implement and exchange data.
Renee Wawrzynski, executive director, Global Logistics, GM said: "Particularly on the finished vehicles side - the visibility, the capacity planning, making sure the investment's there - I think we have to do a better job of providing that future outlook on what the volumes are and where they are expected to be, what the flows are expected to be in the future, and just making sure the capacity is there to support us."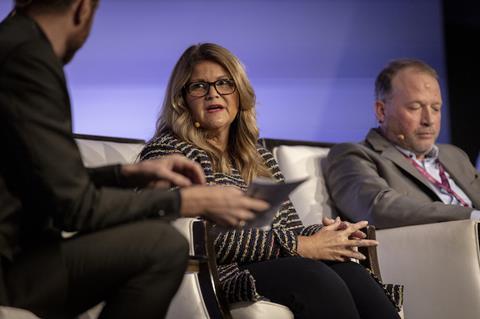 But GM are trying to remedy the data gap. Wawrzynski said: "We provide on our supplier portal a two-year outlook by month for every one of our assembly plants, and our propulsion plants as well."
But she conceded that she is not sure that everyone knows it is there. "The tier-1 suppliers certainly do, they look at that often," she said, "but I'm not sure across our carrier network and wider supply base that they are all aware that's out there."
Additionally, there is the question of how to exchange that data. This is commercially sensitive data, and therefore it needs to be restricted, open only to those stakeholders that need it. Forecast data also needs to be available in a useful form that's more easily exchanged, and Renee acknowledged that this is a weakness in their current approach to portal data. "It's just an excel spreadsheet," she said. "I think there is opportunity for more use of technology. And working more collaboratively together"
Reinforcing the point, Kuehne + Nagel's Glass said that partnership needs to improve in terms of exchanging data, "an area that is completely undervalued in the automotive industry, because of our silo thinking". He added: "All of the data is available, but we are not making the best use of the data in order to be more resilient."
Visibility alone is not enough
However, visibility through the supplier base is never enough, according to Nissan's Styles. He said: "When you get into all these external factors, it really pushes that need to constantly know your entire supplier base, and it's easier said than done when you are dealing with literally thousands of companies around the world, and what they are doing and who they are purchasing from."
Of course, one of the key lessons that the Covid pandemic revealed was that the companies within the automotive value chain, especially the tier-2 and tier-3 suppliers, had a widely varying approach to storing and managing data, with those at the smaller end still even using fax machines and excel spreadsheets ranging up to the high end which had fully synchronised cloud-based systems that include predictive analytics.
There is therefore a huge visibility gap and data gap, requiring a standardisation of data alongside a long overdue modernisation of the technology.
And prompts the question; could we have predicted the semiconductor crisis if we had that extra visibility and predictive analytics? And therefore, could a more predictive and less reactive approach prevent or at least mitigate future crises? The answer is a cautious yes, but with some caveats.
The pros and cons of new technologies
Kuehne + Nagel's Glass said: "We need to use artificial intelligence for better demand forecasting, for example. These tools are available, and if we plan our demand better, it will result in better optimised and streamlined logistics."
Another factor to consider in exchanging data is fraud protection and cyber security. Increased data sharing and remote access of systems inevitably increases the potential risk of cyber security breaches. Therefore a major question remains, how can we implement data exchange but also protect ourselves against cyber security risks?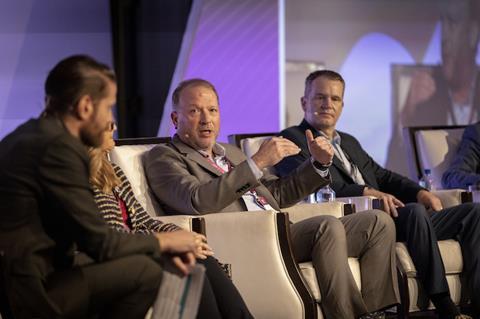 A point also worth noting, which Nissan's Styles raised, is that artificial intelligence is "at the infancy stage" and the automotive logistics sector needs to identify where it can be best used for results while not getting overwhelmed. "Let's start focussing on those areas where we think it could help and try to prioritise those and get started with it," he said.
GM's Wawrzynski had a cautiously optimistic view around deploying AI and predictive analytics. "We all see that the capability is out there, but we're not exactly sure how to use it, how much to rely on it, because it does take some cycles of learning for it to be accurate," she said, "but I think it's something we will all be using, it's just a matter of when and what the best applications are for it."
But why is reliable forecasting important?
Managing the volatility of simultaneous undercapacity and overcapacity issues, slim operating margins, disruption and fluctuating volumes can be incredibly challenging for the logistics industry. The industry needs to build resilience to cope with these challenges, but companies are understandably reluctant to solve the problem by investing their slim profits into new capacity or infrastructure.
From an economic standpoint, rising interest rates have also meant financing investment has become much more expensive. Furthermore, looking to the longer term, the logistics industry's transition towards sustainable, zero-emission fleets requires certainty that there will be a return on that investment, and knowing future volumes and capacity planning is central to that outlook.
But there is a broader financial and business continuity aspect to this. Glass confirmed that LSPs need to achieve a fine balancing act. "We have a cost issue, we have too many people, we need to control the bottom line, and that means we have to re-size and re-structure," he said. "The fact is that every LSP right now is going through significant cost cutting exercises. We must be very mindful and carefully observe which investments we make in which area, whichever makes the most sense."
Making the wrong investments at the wrong time, in the wrong place and with the wrong transport mode could prove fatal for many logistics players, and therefore volume forecast data is key to understanding the most likely future scenario.
Perhaps uncertainty is the only certainty. And in that context at least a perma-crisis can be to some extent factored into business models and investment strategies. However, the automotive industry and logistics sector clearly need to partner more closely, and exchange data along the entire value chain to know what that 'new normal' actually looks like.