Vietnamese electric vehicle (EV) maker Vinfast is using transport and yard management software from Inform to monitor the movement of its vehicles as it gears up for global deliveries.
The logistics software specialist is providing Vinfast with end-to-end transparency on the movement of its vehicles from ordering to final delivery. It said the technology will make the process faster, more efficient and sustainable.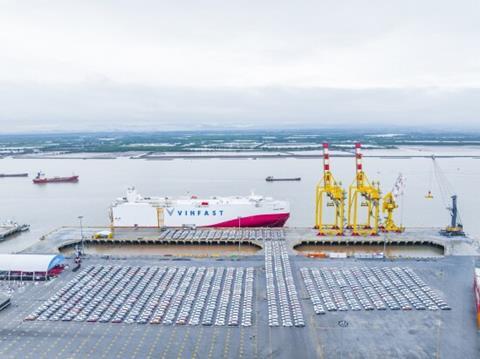 Vinfast shipped its first 1,000 VF8 electric SUVs to the US from the Hai Phong plant in Vietnam. Customers will receive them in December.
That export volume is the first batch of the 65,000 global orders already made for VinFast's VF8 and VF9 SUVs. Following this delivery, VinFast will continue to export more VF8 lots to Canada and Europe for customer deliveries in early 2023
The carmaker said it expects to sell 750,000 EVs per year by 2026. In addition to the VF8 and VF9, the EV lineup comprises the VF5, VF6, and VF7.
The carmaker has been distributing vehicles in Vietnam since production started in 2019. It sold 35,700 vehicles last year. Now it is targeting sales in North America. The company opened its first retail outlet in Canada in November this year following the earlier announcement that it is opening six outlets in California, the first of 30 it intends to open across the US. The carmaker is also building an 800-hectare assembly plant in North Carolina electric car and bus assembly, as well as EV battery production.
Inform said that its software will optimise yard management for the benefit of ports in the US, Canada, Europe and Vietnam. That includes storage, workshop scheduling, workforce management and transport routing. The system is being rolled out in the US, Canada and Vietnam, with Europe to follow. Full implementation will be completed within 18-24 months according to the company.
The carmaker established European headquarters in Amsterdam, Frankfurt and Paris in October this year. It also opened its first retail outlet in Cologne in November. It plans to open more than 50 such stores across Germany, France and the Netherlands.
"VinFast is currently in the process of mass production and delivery to global customers," said Le Thi Thu Thuy, vice-chairwoman of Vingroup and vice-chairwoman of VinFast. "Inform's expertise is the key to VinFast's logistics, offering end-to-end solutions from when the vehicles are exported from Vietnam to when they are delivered to the customers. Inform's technologies will help VinFast achieve faster, more efficient and sustainable vehicle deliveries."
Inform said the transport and yard management software can be integrated with VinFast's existing enterprise management software.