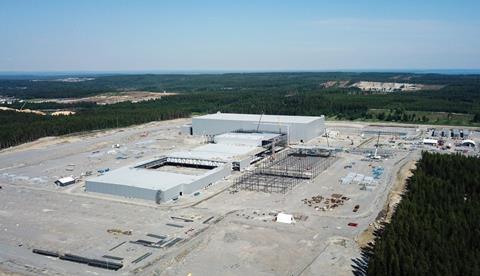 BMW has signed a deal worth €2 billion with Northvolt for supply of battery cells from 2024, which will be made at the Northvolt Ett gigafactory in Skellefteå, northern Sweden. Construction on the plant began in October last year and production is set to begin in 2021.
The signing follows the establishment of a technology consortium between BMW, Northvolt and material supplier Umicore in 2018. The consortium was set up with the aim of developing a sustainable value chain for electric vehicles (EVs) in Europe. BMW and Northvolt will commonly source the cobalt and lithium used for cell production from mines that meet sustainability standards of both companies.
BMW aims to have 25 electrified models in production by 2023, with more than half being fully electric. It also wants to have 1m fully electric and hybrid vehicles on the road by the end of 2021, after which it said there would be a steep growth curve up to 2025, with sales of EVs growing on average by more than 30% annually. In Germany BMW has a 21% share of the electrified vehicle market and sells more than twice as many electric cars as the market average.
"To make an effective contribution to climate protection, we aim to improve our products' overall environmental balance – from resources to recycling," said Oliver Zipse, chairman of the board of management at BMW AG. "This applies in particular to energy-intensive production of high-voltage batteries for electric vehicles. That is why we now have a contractual agreement with our cell manufacturers that they will only use green power to produce our fifth-generation battery cells."
Northvolt said it is looking to put 50% of the material in the used battery cells back into material for new cells by 2030.
Underpinning this green initiative is a logistics strategy aimed at keeping the transport of lithium-ion batteries to a minimum. BMW is currently operating three battery factories globally: in Dingolfing, Germany; Spartanburg, USA and Shenyang, China. These battery factories are supplying the local assembly plants.
Read more about BMW's ambitious plans for the EV market
Join our virtual session The New Automotive World Order: The Electrified Future to understand how electric vehicle production and distribution will continue to create new opportunities in supply chain and logistics.