BYD Auto delivered its first fully electric passenger car to the UK in March but the Chinese vehicle maker has ruled out building a manufacturing plant in the country because of Brexit.
Michael Shu told the Financial Times newspaper that because of the UK's departure from the EU it did not even make the top 10 of possible locations for its first European plant, with Germany, France, Spain, Poland and Hungry in the shortlist instead.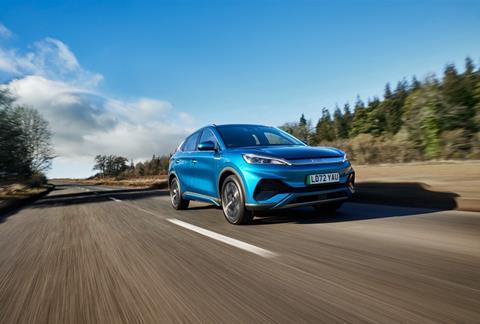 BYD Europe, which is headquartered in the Netherlands, wants to sell around 800,000 vehicles a year in the region by 2030 and will localise passenger car production in an effort to hit that target. Last year it sold 1.8m vehicles globally, including plug-in hybrids. The company already sells cars in Belgium, Denmark, France, Germany, the Netherlands, Norway and Sweden. It also already has a plant in Hungary that makes electric buses.
First passenger vehicle
Up until now BYD has only supplied electric buses to the UK but March sees the arrival of the Atto 3 electric SUV, which is being made available in three versions: Active, Comfort and Design.
In a separate statement Shu said that the company recognised the UK as one of the top European markets.
"With the advantages of BYD's core technology, cost and production capacity, combined with the localised resources of local dealer groups, we will bring diversified choices to consumers and provide great customer service," he said.
The company is using Arnold Clark Automobile, Lookers, LSH Auto and Pendragon as its dealer partners in the UK. BYD is also launching a pilot scheme for its own charging network in a bid to get around the lack of an adequate charging infrastructure.
However, the UK is not a market in which the company wants to make cars. Shu told the Financial Times that BYD was looking for stability for the long-term investment a manufacturing plant represents and after Brexit the UK did not have "a very good solution".
BYD is exporting vehicles for the European market from China but, like other Chinese carmakers, is currently tackling a shortness in ro-ro capacity by ocean. Localised production in Europe will avoid any future outbound supply chain problems. In the meantime, the carmaker is reported to have at least six car carriers on order, each with capacity to carry more than 7,000 car equivalent units (CEUs).
Originally a battery maker, BYD is focused on full vertical integration. It remains to be seen whether BYD will develop its own battery manufacturing facility to support production at its first European plant.