As part of plans first announced last year to jointly develop electric vehicles (EVs) for sale in North America, GM and Honda are reported to be sharing 50% of the parts being used in them.
GM and Honda announced in April last year that they were jointly developing two EVs for Honda powered by GM's Ultium Cells battery technology, itself derived from a joint venture with battery maker LG Chem.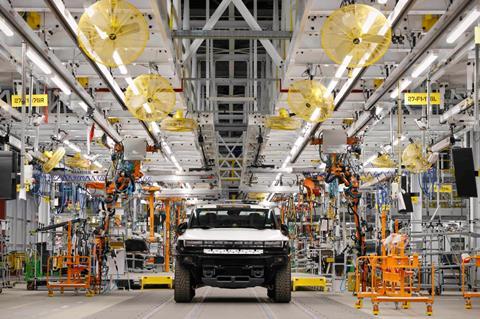 Honda's first fully electric SUV, which will be called Prologue, will go on sale in early 2024 will be joined later that year by an all-electric Acura. Both will run on the highly flexible global EV platform powered by Ultium batteries provided by GM.
The two companies have an ongoing relationship concerning the development of EVs, including work on fuel cells and the Cruise Origin, an electric, self-driving and shared vehicle. Honda joined GM's battery module development efforts in 2018. The agreement between the two OEMs has now taken a bigger step, with an agreement covering parts supply for midsize and larger EVs.
A report published in Japan's Nikkei newspaper on Monday (September 6) said Honda would be providing GM with design information on its EV platform. Each OEM would be building "very similar EVs" under the partnership. It means GM and Honda will standardise motors, batteries and other important components, gaining economies of scale through joint orders.
According to the Nikkei report, Honda is developing its e:Architecture platform for midsize EVs. Those vehicles are expected to come to market in the latter half of this decade, and GM will be using the same platform. In return, GM will share information on the development of larger electric vehicles. The carmaker is investing $2.2 billion to convert the former Detroit-Hamtramck Assembly plant in Michigan into its first fully dedicated EV assembly facility.
The announcement of the parts sharing initiative comes shortly after Steve Carlisle, GM's executive vice-president and president of GM North America, said the company would be seeking to use technology and build partnerships to avoid future supply problems including for EV batteries.
As the automotive industry works to meet regulatory targets for electrification by 2030, there is an ongoing fight for the supply of batteries and the materials out of which they are made. Those with the size and capital to compete in a sector already struggling with costly supply chain issues caused by the ongoing pandemic have a better chance of surviving that fight, which the shared parts sourcing initiative between GM and Honda appears geared toward.
This is also likely to have consequences for suppliers and logistics networks as investments are optimised on a vehicle architecture that already requires a smaller supply base than that feeding the production of vehicles driven by an internal combustion engine. The convergence of supply chains, including shared suppliers and GM plants for North American production, is expected to rationalise inbound networks.
As covered in the latest Insight report from Ultima Media's Automotive business intelligence unit, automotive manufacturers are pursuing different business models to develop regional value chain, including through joint ventures with cell suppliers, vertical integration and agreements to 'lock in' the supply of raw materials through large-scale purchasing agreements. With rising EV demand, there have already been supply bottlenecks, and OEMs want to ensure they have flexible access to supply and new technology.