Hyundai Motor Group Metaplant America (HMGMA) and Georgia Ports Authority have marked the first shipment of parts for the EV manufacturing Metaplant under construction in Bryan County.
The 3,000-acre Metaplant is Hyundai's first EV mass-production plant, representing a $5.5 billion investment by Hyundai. Set to begin production in 2025, it will be an intelligent manufacturing plant with AI and data used to optimise all aspects of production from order collection, procurement, logistics and manufacturing. The plant is estimated to produce 300,000 to 500,000 Hyundai, Genesis and Kia electric vehicles.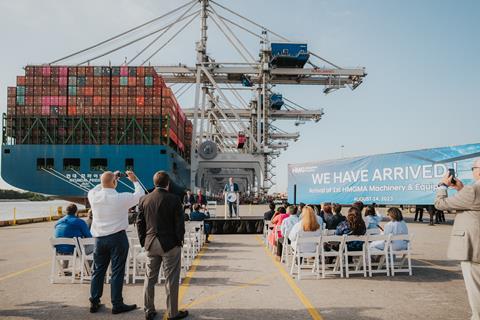 "I have been working on this project since the beginning of 2022, and I am very pleased to see the continued progress of our Metaplant thanks to the hard work of our Meta Pros and partners, like the Georgia Ports Authority, the Joint Development Authority and all of the organisations and communities involved in the project," said Oscar Kwon, CEO, HMGMA. "We are making steady progress at the Metaplant, and the shipment of equipment will be vital to the completion of the project."
The shipment is the first shipment of equipment to arrive and contains parts for a crane that will be used in the stamping facility to move metal presses.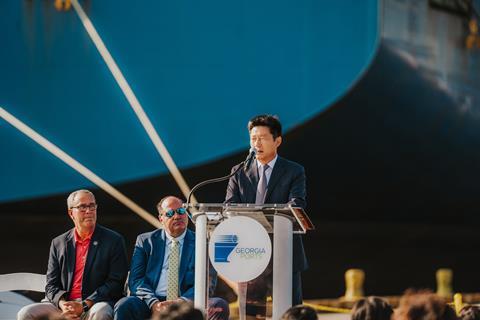 Kent Fountain, chairman of the board, Georgia Ports Authority said: "This is the dawn of a new era in automotive technology and sustainability in the great state of Georgia."
Hyundai announced in May that it is partnering with LG Energy Solution in a 50/50 joint venture for the battery cell manufacturing facility at the plant. The battery facility will involve an investment of more than $4.3 billion and will have an annual production capacity of 30 GWh, able to support the production of 300,000 units of EVs annually.
Learn more about electric vehicle lithium battery gigafactories in our database