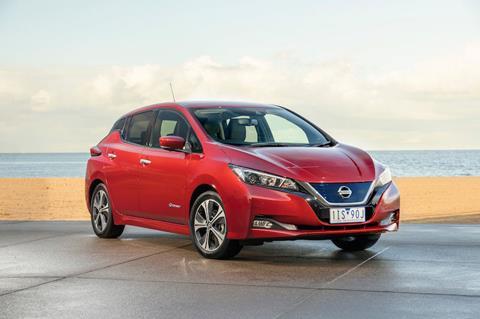 Nissan has started delivering volumes of the Nissan Leaf electric vehicle (EV) to Australia and South America. The cars are being exported from the carmaker's Sunderland plant in the UK.
For the Australian market Nissan is shipping the cars with Höegh Autoliners to five ports around the country: Melbourne, Sydney, Brisbane, Adelaide and Perth. From there the vehicles are distributed to 89 dealers by Prixcar Services.
"Nissan is excited to have the new Nissan Leaf on sale in Australia," said Nissan Australia's managing director, Stephen Lester. "As the pioneer of electric vehicles globally, the new fully electric Nissan Leaf represents the future of Australian motoring. We are expecting to see a spike in EV sales in Australia and Nissan is best placed to look after electric vehicle buyers long after they've made their purchase."
Nissan has also started exporting the Leaf to South America this month, beginning with deliveries to Argentina, Brazil, Chile and Colombia.
"During the pre-sale period we have received hundreds of inquiries and we have already completed 85 Leaf sales units that will be delivered in the coming weeks," said Ricardo Flammini, vice-president of marketing and sales for Nissan in Latin America.
Nissan said it had delivered 400,000 units of the Leaf around the world since production began. Production began in Japan in 2010 and was brought to the Sunderland plant in 2013.
Last month the Sunderland plant celebrated the production of its 10 millionth vehicle – a Nissan Qashqai Tekna. Nissan Sunderland currently builds the Qashqai, Leaf and Juke models.