Despite the fact that global total industry volume (TIV) is likely to drop by 7% or 8% this year, longer term growth is forecast to be huge, said Mark Sutcliffe, senior vice president of industrial strategy and supply chain management (SCM) at the Renault-Nissan-Mitsubishi (RNM) Alliance.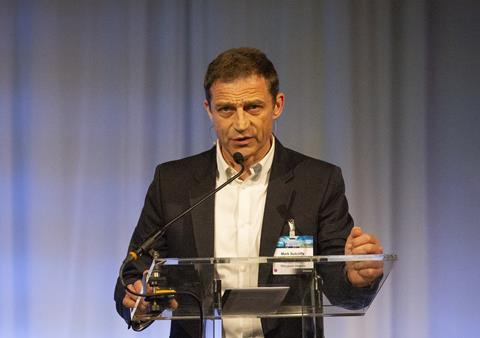 Sutcliffe was speaking at the Automotive Logistics Global Munich conference last week and he pointed out that in the period between 2016 and 2022, 15m vehicles will be added to industry output (from 2000 the number of vehicles added is 50m). However, along with this fast growth there is going to be significant disruption, Sutcliffe told delegates.
"We're facing an exponential level of change," he said. "There is a transition from a vehicle that is dominated by metal, plastic and wiring to vehicles dominated by the software and hardware required to run them. This is causing a shift in the dynamic of the supply base but also within the OEMs."
That change in the make-up of the vehicle is driving consolidation and new alliances within the industry at the OEM and supplier level, something with obvious consequences for the automotive supply chain. The merger of Magneti Marelli and Calsonic Kansei, and Faurecia's strategic partnership with ZF are just two examples. The RNM Alliance currently has around 6,000 suppliers.
Renault-Nissan's move to take a majority 34% stake in Mitsubishi back in 2016 is another example of the sort of consolidation underway. Sutcliffe pointed toward the sales benefits of mergers at the OEM level and said that the RNM Alliance is expecting to sell 14m by 2022 (last year it sold 10.7m).
Electric and connected
Seen as one of the originators of mass market electric vehicles (EVs), the Alliance (which includes an EV joint venture with Dongfeng Motor in China) will continue to develop and produce EVs, with 12 new models expected by 2022 and 30% of total volumes to be electrified. Despite that growth Sutcliffe questioned the profitability of EVs. "EVs still have a big challenge in terms of profitability for the OEMs," he said.
Vehicle connectivity, however, offers cost savings for the OEMs and their logistics providers, and it is a technology moving forward in huge leaps. Sutcliffe said that most vehicles can take software updates over the air as the vehicle is in constant contact with the datahouse and while that is good for the driver, it is also good for the outbound supply chain.
"Human machine interface is developing rapidly, but so is it backstage," he said, adding that the sector needed to exploit that richness of data to improve full track and trace of the vehicles.
There is now a great deal of interest from technology providers in the automotive industry and the data generated by a smart vehicle, and it is the big technology companies that beginning to dominate the automotive industry and challenge the OEM position, according to Sutcliffe.
"Big tech companies are dominating market capital," said Sutcliffe. "Data is everything and we can valorise it, but who actually owns it?"
AV opportunities
In terms of the arrival of mass market autonomous vehicles (AVs), Sutcliffe said that 10 years was not too early a prediction and pointed out that technology in Japan that enables a person to drive onto a motorway hands free was already a reality. However, he conceded that sort of technology will not be as quickly adopted in Europe.
"We're somewhere in the middle of feet off, hands off and eyes off, but it is en route," he said.
The point is, the industry needs to be ready and, as with connected vehicles, the logistics sector stands to benefit. "It is when AVs no longer give you challenges but opportunities," he said. "Vehicles parking themselves in compounds, especially for some of us who are a little bit cost focused, is something to look forward to, as well as the many other benefits."
Looking to the future and new mobility, Sutcliffe mentioned urban customers who did not want to drive or own a car and predicted the rise of the self-driving robo taxi. "Many OEMs are now working on it, he said. "In the future we won't so much be selling cars in cities, but selling kilometres."
Ambiguity, uncertainty, volatility
Sutcliffe also pointed to the impact of customer choice and new technology on the inbound supply chain and said the idea of just-in-time delivery was dying out.
"We have to get used to having far more ability to react and be flexible than in the past," he said. "We don't have the ability to nail down the variable today," he said, adding that ambiguity, uncertainty and volatility were the three watchwords for today's supply chain.
Regarding the impact government regulation is having on the supply chain, including the Worldwide Harmonised Light Vehicle Test Procedure (WLTP), Sutcliffe stated that red tape and checks, which all "add costs", cannot be passed on to the customer. "We can't say the price is increasing because WLTP is increasing," he said.
Tariffs, trade and technology: A new era for European automotive industry
1

2

3

Currently reading

Rise of smart cars heralds supply chain disruption, says Alliance's Mark Sutcliffe

4

5

6